BREAKING NEWS: Ajimobi, Ex Governor Of Oyo Is Dead.
Adunni Adetola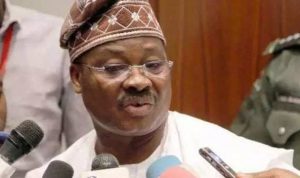 Former Oyo State Governor and a chieftain of the ruling All Progressive Congress, Senator Abiola Ajimobi is dead. He passed away today at the age of 70. Ajimobi died at First Cardiology Hospital in Ikoyi Lagos as a result of the complications of Coronavirus. He slipped in coma last week and couldn't make it after a serious battle to save his life. It was reported that the former Governor had lung surgery after which his kidneys failed.
The source further disclosed that the former Oyo governor had a lung surgery since being rushed to the Lagos hospital but made no progress while his kidneys had also failed.
It was reliably gathered from Doctors  treating Ajimobi last Friday informed his family that his situation had defied every medical intervention and that only a miracle could bring him back to life.
       Senator Abiola Ajimobi is one of politicians in Nigeria who have died as a result of Coronavirus.