Send-off party of Lt Col. Benedict C.Eze at Fox officers mess 174 Battalion Nigeria Army Odogunyan Ikorodu.
Adunni Adetola
The send-off ceremony of Lt Col Benedict Chiwuba Eze took place at the Fox Officers mess 174 Battalion Nigeria Army Odogunyan Ikorodu on Sunday 30th of December 2018.
The ceremony commenced at about  2000hrs. It attracted  very senior  Officers  both serving and  retired, Rtd Col.& Mrs shodeinde,  Rtd Major & Mrs Jimmy Gbafade, Lt. Col.& Mrs S.O Fagbemi  of Brigade  headquarter.
Other important dignitaries include  the Ass. Corps Commander  and unit  Commander  Ikorodu  Mr& Mrs Babatope Agbaje. The CEO/ MD.The sheriff  Royal hotel  Mr& Mrs Agbo Audu. Also include  high chief  Jacobson  Akpa  a close friend  of COL. Eze. The executive chairman  of Ijede LCDA Comrade  Salisu Fatiu Jimoh.  The DPO ogijo police station SP Tijani Muhammad was not left out.
The send forth ceremony for the outgoing commanding officer Lt Col Benedict Chiwuba  Eze  was anchored by the oldest honorary member of the senior Officers mess and a retiree from voice of Nigeria Chief Ibe Onyike.
Also the civilian president  of the senior Officers mess, Otunba Fatai Adegbuyi  in his welcome speech  prayed  for the commanding officer. The honorary  members  presented  their commanding officer  and patron  a giant generator.

Other gifts presentation picture  below
The commanding officer in his response, introduced his successor Lt Col.Gwaani  and thanked the honorary members for their time money spent above all their  cooperation  and their unflinching  support. He employed them  to extend such hand  of love  friendship  support to the  new  commanding  officer.
Lt Col Eze in his farewell  speech " I was able to able to curtail  nefarious activities especially  Badoo cultist group that gave people sleepless  nights with  the support of Officers in the unit,  host of community and well meaning  individuals in Ikorodu who provided real time intelligence  equip assisted  in so many operations, also achieved  about 99% degradation of kidnappings bank robbery  and oil bunkering as an heavy blow ."
He urged  his successor to subjugate any challenges especially at the prime election. According to Lt. Col. he had conducted WASA three times and served under many  Brigades  Commanders.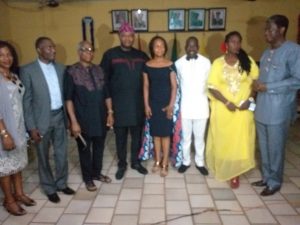 Also in an interview with  Comrade  Salisu  fatiu Jimoh he described  that he outgoing  commanding officer as an accessible,  humble never compromised Officer, he will never intimidate anyone, he is close  to the people both the traditional  and political class. He also said Lt col. Eze assisted the division including  Ijede in the issue  of cultism has worked hand in hand with other security  agencies to bring peace to Ikorodu  as he adopted participating  leadership  style and involvement.  He advised  the new incoming commanding officer  to emulate his leadership  style.
In an interview  with the road safety Commander, Agbaje also described  the Lt Col. Eze as hardworking  gallant Officer he is security  conscious, he has shown  commitment, dedication to his work  and has worked  in harmony with  other security agencies. " I never thought  his posting  will come so sudden. We will miss him ."