Chris Bamidele Onalaja Foundation (CBOF) Put Smiles On Widows Faces At Christmas Fiesta.
Adunni Adetola
RevolutionPlus Property is a Nigeria's foremost real estate company, the operation began eight years ago, in May 2014. It was established by a couple, Dr. Bamidele Onalaja and Mrs Tolulope Onalaja, their vision is to provide affordable housing for Nigerians and bridging the housing deficit.
RevolutionPlus Property has six branches in Nigeria with offices situated in various locations in Lagos, Ikeja and Lekki and offices in different states in country, Abuja, Ibadan, Abeokuta and Port Hacourt. Its international Office in DallasTexas.
The company has grown over the years to create Revolution in Nigeria real estate sector becoming a brand name.
RevolutionPlus now, has over 43 estates across the country and eight mega housing projects. All these estates are situated at different locations in Nigeria including Lekki ,Ajah, Epe, Ibeju-Lekki, Ikorodu, Shimawa, Mowe, Abeokuta, Ibadan, Port Hacourt and FCT Abuja.
RevolutionPlus Property has allocated 9,696 plots and succesfully made over 9,000 Nigerians Landlords.
Chris Bamidele Onalaja Foundation (CBOF) is a Coperate Social Responsibility (CRS) an arm of RevolutionPlus Property, founded in 2017 with the aim of contributing to the sustainability, growth and development of humanity.
The Patron is Mr Bamidele Onalaja, the Group Managing Director of RevolutionPlus and Matron is Mrs Tolulope Onalaja, the Group Executive Director
CBOF is a non-profit Organisation, touch ing the lives of many people positively,
It was initiated in 2019, with the aim of affecting lives in the areas of ;
1. Children and Maternal Health: According to records some towns and communities in Ibeju- Lekki have beneffited in the free medical accessments by doctors employed by CBOF.
Also, other people from Oyo, Ibadan, Ogun, Obada, Ikorodu, Amuwo -Odofin have benefitted from CBOF free medical outreach.
2.Education and Scholarship;
CBOF has built numerous schools, given students educational items, computers including scholarships.
3.Economicand Community Development; CBOF worked in collaboration with Lagos goverment in sponsoring Lagos City Marathon Race back to back for the past four years.
During the 2020 COVID-19 lock down, CBOF distributed palliatives (full bags of food items) to over 1,000 households, extended to Oyo state.
4.Water Sanitation and Hygiene; CBOF has drilled many boreholes in different locations and communities, constructed public toilets , all the projects are still standing, functioning till date.
5.Disease Prevention and control
6.Widow Empowerment; A large number of widows have benefitted from CBOF widows empowerment and skills acquisition programs to learn soap making and other skills. CBOF initially began the Empowerment with ten widows in 2019, they were given the sum of #100,000 each, which the total sum of #1m was given to widows to start small scale business.
Apart from cash assistance, equipments like grinding machines, sewing machines, hair dryers were given to them.
In Feb.2020 the numbers increased to 10 widows, 2021, CBOF Empowered additional 300 widows, the total number of 650 widows have been empowered so far, in 2021, CBOF gave over 300 widows rice and groundnut oil to celebrate Christmas.
On Monday, 12th December 2022, at RevolutionPlus House, ikeja, history repeated itself, CBOF has reached out to 300 widows and other less privileged people to celebrate this Christmas season. Only those who have registered ahead of time have the opportunity to go home with a bag of rice and a bottle of groundnut oil.
In addition, a lot of people were hanging around the vicinity, struggling to gain access to the compound. While others who have registered were partakers of the sharing.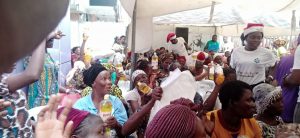 RevolutionPlus brand head & corporate Media, Ms. Aderonke Idowu, in her address "RevolutionPlus Property, Nigeria's foremost real estate company started operations eight years ago, in May 2014 after it was founded by a couple Dr Bamidele Onalaja and Mrs Tolulope Onalaja with the vision of providing affordable housing for Nigerians and bridging the housing deficit.
"The company has over the years grown to create a revolution in Nigeria's real estate sector becoming a brand that is a household name and proudly bringing the real estate dream, desires and expectations of many into reality.Our core values remain integrity, trust and timely delivery and we are living by these values.
"Our dedicated team of staff members operates by these core values and we all live by it. Integrity is our watchword.We have six branches of RevolutionPlus Property in Nigeria with our offices situated in these locations. So we have office in Ikeja and Lekki, Lagos.
"We have in Abuja, Ibadan, Abeokuta, Port Harcourt. We also have our international office in Dallas Texas.Earlier this year in May, we marked our 8 years anniversary where we celebrated eight years of impacts in Nigeria's real estate industry.
" RevolutionPlus as of today have over 43 estates across Nigeria and eight mega housing projects. All these estates are situated in various locations in Nigeria including, Lekki, Ajah, Epe, Ibeju-Lekki, Ikorodu, Shimawa, Mowe, Abeokuta, Ibadan, Port Harcourt and the Federal Capital Territory, FCT, Abuja.In all these our estates we have allocated 9,696 plots.
" So, evidently, RevolutionPlus Property has made over 9,000 Nigerians landlords.
"SOLD OUT ESTATES In this year 2022, we have sold out 5 estates: Highbury Beachfront (which was launched in May this year), Graceland located in Epe; Caleb's Court 1 located in Ibadan, Victory Park and Garden, Ibadan and Grandeur 2 located in Abijo. We have also done a total of 2,503 allocations in this year 2022.
"A big thank you to all our subscribers, because without them, these wouldn't have been achievable. Also, in this year, we started instant allocation. This innovation has been applauded in the real estate sector and many others have followed suit promoting instant allocation, a brain child of RevolutionPlus Property.
"New estates have been launched by RevolutionPlus Property this year – Amazon Estate, Epe; Highbury Beachfront Eleko, and Luxury Garden, Port Harcourt. Many more estates are in the plan.RevolutionPlus did not just stop at providing housing for the Nigerians but also, we are giving back to the society through our CSR arm, Chris Bamidele Onalaja Foundation (CBOF).
"In 2019, CBOF was founded with the aim of touching humanity through these major areas:
Child and Maternal Health
Education, Scholarships
Economic and Community Development
Widows Empowerment,
Water Sanitation and Hygiene
Disease control
Child and Maternal Health: We all know health is wealth. CBOF has done various medical outreaches in towns and villages in South West, Nigeria.
" Towns and communities in Ibeju-Lekki were reached with free medical accessments by medical doctors employed by CBOF. Also in Oyo State, we reached out to people of Ido Local Government, Ibadan; in Ogun state, people of Agbede-Odubose, Ikorodu, Obada and Molaka Community in Abeokuta benefitted from CBOF free medical outreachs.
" No one was left behind – both the young and old, men and women were attended to by our doctors. For child and maternal health mission of CBOF, we are constructing an ultra-modern child and maternal care center in Amuwo-Odofin area of Lagos.
"We already did an elaborate groundbreaking ceremony to flag off this multi-million naira worth project.Education and Scholarship: Under this area we have built schools, given scholarships to students, given out educational items including computer systems freely to students. One of our numerous school projects, we have Toldel nursery and primary school in Ikorodu area of Lagos with over 90 pupils enrolled.
" In this school, the pupils are not paying a dime as school fees, once they enroll, freely, they are given free exercise books, free school bags among others. All the teachers and admin staff of the school are paid by CBOF and the pupils get to enjoy solid education, freely. Also at Wasimi Junior High School, Lagos we built a huge structure with new classrooms, principal's office, examination hall, all in one storey building.
"We also donated educational materials and furniture to the school. The gigantic structure built by CBOF in the school still stands today.We constructed an edifice in Makoko area of Lagos, this building was donated to Innercity Missions of Christ Embassy church as a learning center.
"Water Sanitation and Hygiene: In contributing to providing safe drinking water, CBOF has drilled boreholes in different locations, different communities, in South West Nigeria. We also constructed public toilets, one of them in Cane Village, Maryland where we built 10 units of toilets and bathroom. All these structures, buildings and projects are still standing today, they are all functional till date and being enjoyed by members of the various communities in Nigeria.
"Also, at CBOF, we want our communities to be safe and secured, this is why we have constructed police stations with offices, fully built and handed over to Nigeria Police for use.In Ijebu-Ishonyi and other locations in South West Nigeria. We constructed police station, fully built, painted, furnished and we handed them over to Nigeria Police.
" We also refurbished offices that needs to be more appealing, one of them is the Railway Command headquarters at Ebutte Metta.Economic and Community Development: At CBOF, we've worked with Lagos State government in sponsorship of Lagos City Marathon Race back to back for the past four years.
"Also, during the 2020 COVID-19 lockdown, we distributed palliatives (big bags of food items) to over 1,000 households in Ise, Lepia, Folu and Olofin towns of ibeju Lekki, in Lagos State and we got a commendation letter from Lagos state government for this good deed. We extended same gestures to residents of other states – Challenge Ibadan, ring road area in Ibadan, Ido and Elebu communities in Oyo State different families, indigent families were given bags of food items freely.
" We also got a commendation letter from Oyo State Government for this.Widows Empowerment: Various batches of widows have benefitted from CBOF widows empowerment and skills acquisition. We started with ten widows 3 yrs ago 2019 and we gave them the sun of N100,000 each making a total of N1m given to widows to start small. That was in 2019.40 more widows were reached in Feb 2020 and in 2021 we empowered additional 300 widows. In 2022 we have empowered 300 widows so far, this makes a total of 650 widows empowered through CBOF till date.
"Apart from the cash for them to start their business we gave equipment like grinding machines , sewing machines, hair drying machine etc. They also benefited from our free skills acquisition trainning and were taught soap making and other skills.Last year we gave over 300 widows rice and groundnut oil to celebrate the Xmas and we are repeating same this year.
"So, today, we are here to reach out to 300 more widows and not only widows but also other less privileged individuals in celebration of this Christmas season. Everyone of them have registered ahead of today and will all be going home with bags of rice and kegs of groundnut oil.
"The founders of this great giving back CBOF are also the power couple behind RevolutionPlus Property, they are passsionate about humanity, they are commited to making the needy smile, they've done multi million naira projects àcross this federation passionate and dedicated to giving back.
"Lets welcome, the latest Dr and Deacon Bamidele Onalaja and his adorable wife, phenomenal full of grace, an epitome of brain and beauty, Mrs Tolulope Onalaja as we invite them for their short speech."
Mrs Tolulope in her speech thank God for the foundation, she noted that "the widows that have registered their names are 300, and the300 widows are the ones to benefit". She however advised that the widows should register their names first before benefiting. "CBOF is planning to increase the numbers of our beneficiaries to 1,000 or even more next year, may God enable us, Though there had been challenges but we will continue to move forward".
Mr Bamidele Onalaja in a speech also assured the widows that the foundation will increase its capacity to give more. "Next year we will increase the numbers of our empowerment beneficiaries, the only thing is that you must utilize whatever you benefitted in Empowerment, with that we will be convinced to do more and give you support.".
At the event, 3 beneficiaries gave their testimonies on how CBOF has powered them. 1st beneficiary Oluwatoyin testified on the acquisition skill of soap making, the business has been flourishing, she has been maximising profits from the business. She however prayed, showed her gratitude and appreciation to the Patron and Matron for the Empowerment.
2nd beneficiary, Juliana Okolaba also testified that on how she had utilised the money she was given and have been making profits of 5 thousands naira. She also rejoiced and thanked CBOF.
3rd beneficiary, Joana Igwe benefitted from the equipment empowerment of grounding machine, also said she has been utilising the equipment effectively. She prayed and appreciated the couple.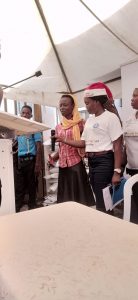 The bags of rice and bottles of oil were distributed to the widows. One of the widows named Yemisi was interviewed, her reactions to the gifts, "My name is Yemisi, the program comes up yearly and i have been a beneficiary, Iam so grateful to God and the couple for their benevolence.
The Patron and the Matron of CBOF Mr Chris Bamidele and Mrs Tolulope Onalaja in an interview with the newsmen, Mr Bamidele Onalaja said "the Cooperate Social Responsibility (CSR) is an arm RevolutionPlus for doing these, we love to give, the act of giving is from the mind, is a lifestyle I have cultivated so much, since when I was younger, i learnt the act of giving from my father and my pastor, Chris Oyakilome of Christ Embassy Church. Absolutely nothing I cannot give, my wife always mock me that am a 'Mala' (free giver), when it comes to giving. In fact my friend told me one that I hope you will not give out your children one day, I responded that I have already given all my children to the alter of God a long time ago. You can see that there is Poverty in the land, we budgeted for 300 people, the turn out was about 1,000. We have the resources that is we are doing all these. You need to support us in prayers to continue.
Mrs Tolulope Onalaja said "the real estate is very competitive, if you must operate real estate you must be tough. RevolutionPlus is born out to give, rising and different from others, we don't do Ikoyi or lottery Property, our focus on affordable housing those who don't  believe they can own houses. We dont have competitors because we are models with a unique approach in the estates management. We have structure payment plan.
"Some people said why are we selling for People in the middle class, that's why people dont call your name because this people cannot live in Ikoyi.
God wants us to assist that woman selling pepper and that man selling meat to own a house.We have helped 9,696 Nigerians to be Landlords and that is why we are unique.
"Our aim is to touch all the 36 states and people have been calling us to help them in north, and east. Now, we are in Abuja and Port Hacourt. She said "The Foundation has different area of focus as aforementioned, it touches every lives, besides, free schools had been built fully funded with free uniforms, free books feeding the less privileged children. About 96 children are already attending. Teacher are paid regularly by RevolutionPlus.
"The Foundation has built Police Stations, constructed boreholes for different communities. But widows and children was specifically ministered to us to reach out to. I cant run another Foundation differently. As we keep expanding, we will touch more lives and benefit more people.
The brand ambassador, added "We have reached out to 2,000 youths on the streets, with life chickens especially to the people in Ikeja, Agbado and other areas. this year we will increase it to 3,000.
Mrs Onalaja said "I told those who have already benefitted in the empowerments not to come, we make sure that fresh people benefitted. And to my surprise they have judiciously utilised the empowerments funds. Those given cash were monitored. Also in the area skills acquisition, they were trained on how to make soaps, drinks, how to sew, how to make hair, certificates will be presented to them after the free training. Now, 650 people had been impacted.
Mr Onalaja said" hoping by next year, we will empower 1,000 people, the empowerments would be divided into two, first batch 500, second batch 500.
She said 'Although, there had been cyber bullying, several needs to meet. Yet, we continued giving. During Covid-19 we gave some people food Items, 2020 was a year of supernatural blessings, rewards always come after giving.
Onalaja reacted" We have been running the Foundation on our own using RevolutionPlus and group of companies fund, to sponsor the Foundation.We love to partner with foreign partners like Billy Gates other interested partners.
He added, "we supported a disabled person after he wrote a letter to the Foundation. We love to do more.
We look forward to partner with the Association to empower the disabilities.