Senate confirms Lauretta Onochie as NDDC board chairperson.
Adunni Adetola
The senate has confirmed Lauretta Onochie, a presidential aide, as the chairperson of the Niger Delta Development Commission (NDDC).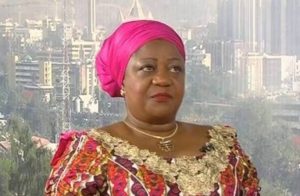 The upper legislative chamber confirmed her and 12 other nominees after Amos Bulus, chairman of the Niger Delta committee, presented a report on Tuesday.
President Muhammadu Buhari had asked the senate to confirm the nominees.
While presenting his committee's report, Bulus said the nominees possess the requirements to be on the NDDC governing board.
The senator said Pius Odudu and Anthony Okanne, nominees from Edo and Imo states, respectively, did not show up for the screening exercise.
"During our screening exercise, two of the nominees were absent and information was not given by the senior special assistant to the president of the national assembly (senate) for their absence," he said.
"The committee stepped down their screening due to their absence. The nominees possess competence, integrity to lead the commission.
"The committee noted that they are fit."
After the presentation of the report, Seirake Dickson, senator representing Bayelsa west, said that some of the nominees do not come from oil-producing communities.
During the screening, Dickson had asked Onochie if she was from an oil-producing community but she was told to respond to the question in a closed session.
"I want to observe that this is a fitting moment to commend the president. Finally, we have nominations to properly constitute the board of the NDDC as required by the act," the former governor of Bayelsa said.
"We should add a clause calling on the president to ensure that their nominees come from oil-producing areas as required by the law."
Thereafter, the nominations were confirmed after Senate President Ahmad Lawan put them to vote.
Here are the other nominees confirmed;
Dimga Erugba (Abia)
Emem Wills (Akwa Ibom)
Dimaro Denyanbofa (Bayelsa)
Oruk Duke (Cross River)
Gbenga Edema (Ondo)
Elekwachi Dinkpa (Rivers)
Mohammed Abubakar (Nasarawa)
Sule-Iko Sani (Kebbi)
Tahir Mamman (Adamawa)
Samuel Ogbuku (Bayelsa) MD for a term of two years
Charles Airhiavbere (Edo) Director of finance
Charles Ogunmola (Ondo) Director of projects