DCI AA ADEKUNLE WAS BESTOWED A MERITORIOUS AWARD OF EXCELLENCE IN SAFETY MANAGEMENT ( AMBASSADOR OF PEACE AND SAFETY).
Adunni Adetola
The Torch News Media presented a Meritorious Award Of Excellence In Safety Management ( AMBASSADOR OF PEACE AND SAFETY) to DCI AA Adekunle, the Passport Control Officer( PCO) of Abeokuta Passport Office, Ogun State Command Zone A, on Tuesday, 14th November 2023.
In recognition of his unwavering dedication and commitment to duty, altruistic nature, relentless efforts in safety management.
Ability to provide accessible, qualitative services, controlling passport applications, passport renewals, complaints, processing, issue of passports, ensuring new applicants procurement process of passports, enhancing service delivery and effectively educating applicants on the appropriate use of Online Passports registration in line with Nigeria Immigration Service Policy.
His magnificent exploits, proactiveness and responsiveness as Passport Control officer (PCO) in Abeokuta Passport office through effectiveness and intelligence in maintaining orderliness and peace, has delivered a qualitative services to the people.
DCI AA Adekunle has served in various capacities throughout his career, he has also demonstrated a sterling, impeccable, exemplary leadership qualities and indefatigable attitude.
His service to humanity is to safeguard Nigerians both at home and abroad.
May he move from one giant stride to another. Forward Ever!.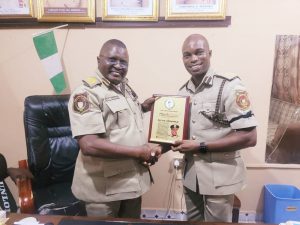 In reaction, ACI Adewale Aboyeji, 2i/c Passport section described DCI AA Adekunle as a man of integrity, an exemplary leader, a man with a good heart. Under his leadership, Abeokuta Passport office has been transformed due to his workmanship skills as he works passionately and effectively, he carries his people along. We are happy to be part of his success today.
Speaking further, 'he has a "webby account" a vast network content management system which is essential for websites where content is updated regularly. "We are glad to be  part of his great success and more recognition in years to come.
O/C enrollment in Abeokuta, Mr. K.O Adeniyi also described DCI AA Adekunle as an indefatigable, dedicated and exemplary leader, adding that all applicants who register online will get their Passports as soon as possible. "No bottle neck, all applicants who applied online will get their passports as soon as possible because our PCO is a professional, thoroughbred Immigration officer, a very competent man. I wish him more successful and prosperous tenure on the seat".
On his part, DCI AA Adekunle said, " I am delighted for the award bestowed upon me today, I thank the Media outlet for counting me worthy of this MERITORIOUS award, infact I never expected it, it came to me as a suprise. The award will be a stimulant that will ginger me to perform better than this.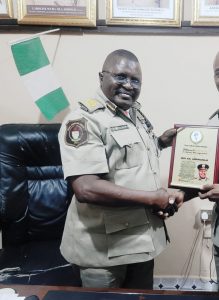 " I dedicate the award to my family and the entire Passport office".
Responding to some questions on the issue Passport, NIS touts and Passport racketeering, he said "no such incident occurred here, the way we operate here doesn't permit racketeering, my eyes are everywhere, my officers occupy everywhere they educate and advise people".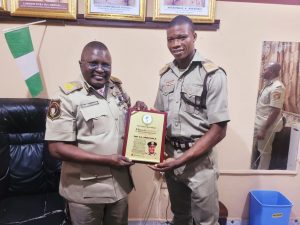 "Also, the passport online registration is very effective and easier for the applicants, once they are educated on the procedure, they can go ahead and apply.
"We are actually getting desired results, once they capture within one week or two, they can collect their passports", he added.
Our organisation, the TORCH NEWS has commended the great and selfless efforts of the serving officer who is dedicated, reliable, trustworthy, and has understood the importance of keeping commitments.
Abeokuta Passport Office is well known for its effectiveness, orderliness, accountability, peaceful and immense services.
The media outlet, as a way of appreciating the efforts of men of the Commission who are totally dedicated to their duties by protecting, safeguarding lives and Property of citizens proactively.
These seamless efforts are commendable and must also be attributed to the CGI Wura-ola Caroline Adepoju fsi and the ACG KA Sadiq, Zonal Coordinator, Zonal A headquarters, Lagos State.