HRH Eze Dr. C.C Nwokedi, Eze okpoko 1,Okpoko1 of Obodoukwu Eze Ndigbo ijegun & Ijeododo land, confers AIG Zone 2, Onikan, Ali Ari MUHAMMAD with a chieftaincy of AGU N' ECHE MBA NDIGBO, Chief Olasunkanmi Ismail Idowu as NWANNE DINA MBA 1 of Lagos State.
Adunni Adetola
Appreciating that society is made up of many different groups with different interests, skills, talents and needs. It also means that you recognise that people in society can have different religious beliefs.
A better understanding between different cultures, beliefs and life experiences can help make our world more stable, peaceful place and can help us develop as a society.
The quality of diverse or different cultures, as opposed to monoculture. It has a variety of meanings in different contexts.It is an inclusion of different cultural perspectives in an organization or society, applying to the variety of human cultures or traditions in a specific region, or in the world as a whole.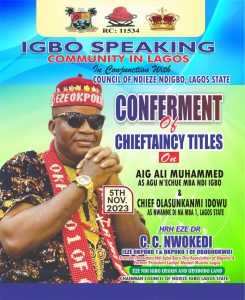 All these has been put into practice by HRH Eze Dr. C.C Nwokedi, Eze okpoko 1,Okpoko1 of Obodoukwu Eze Ndigbo ijegun & Ijeododo land as he promotes Cultural Diversity, Unity, peace and Togertherness.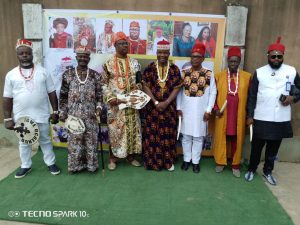 The Igbo Speaking Community in conjunction with the Council Of Ndi Eze Ndigbo Confer AIG Ari Mohammed, Chief Olasunkanmi Ismail Idowu With Honorary Chieftaincy Title.
The bestowment took place at Eze Nwokedi's sumptuous place in ijegun on Sunday 5th November 2023.
Courtesy demands that the organiser must welcome the guests to the occasion with the breaking of kolanuts, Dr. Eze CC Nwokedi who was the host at the occasion, welcome all the guests, by breaking of  kolanuts, he also presented two kolanuts to the king of Ijegun through his secretary.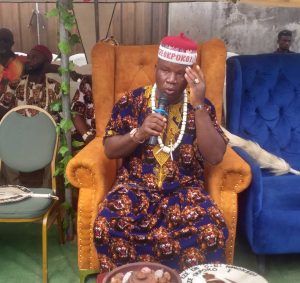 A guest who accompanied Prince Olasunkanmi played a vital role by praying in yoruba traditional way by balancing the prayers, he prays for protection, blessings, peace, peaceful coexistence within the tribes in ijegun community.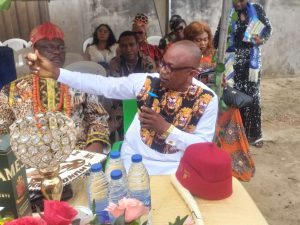 Chief Sunday Udeh, Chairman Igbo speaking community in Lagos State, prayed and broke the Kolanut.
Dr. Eze CC NWOKEDI also pray for peace and progress of the community, yoruba and the entire Igbo in general, Says, Can anyone show me who has another blood apart from normal red blood?, "all blood are the same, no blue, yellow or green' so let us love ourselves, do not differentiate between igbo, yoruba and hausa and let us  be our brothers keepers, let us tolerate ourselves and live in peace, love and harmony".
Psator Ugoeze Tessy Chika Nwokedi also prayed for the ijegun community.
Eze Dr. CC Nwokedi with the council of Ndieze presented certificates, awards to AIG Ari Ali Muhammed, who was unavoidably absent at occasion and was ably represented by Mr Chijioke Uzorue a businessman.
In his short speech, via Telephone conversation, he said " Greetings to all Igbo speaking Community both at home and diaspora, am very pleased and  delighted with the chieftaincy title, certificate and award bestowed upon me. Am so sorry, I cant be present to witness the occasion because of duty calls, but am with you in the spirit, i will see you all when i return . Thank you all, farewell". Eze Dr CC Nwokedi responded that AIG Ali is among the AIGs to monitor elections in Bayelsa.
AIG Ari Ali Mohammed was bestowed with "THE BEST SECURITY MAN AND THE BEST AIG" of the year awards.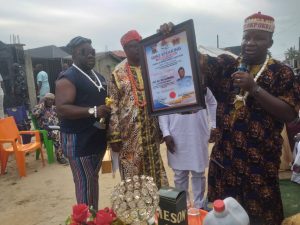 Chief Olasunkanmi Ismail Idowu was also presented certificate and award.
Other programmes were also lined up to celebrate the event.
AIG Ari Ali Mohammed Ali, was unavoidably absent due to some circumstances beyond his control, thereby sent a representative, Mr Chijioke Uzorue a businessman, who spoke  with the journalists on his behalf during an interview. He said, "the honorary title bestowed upon him is a deserving one, due to his dedication, commitments and excellent services, he has also impacted different cultural backgrounds thereby having a sense of belonging in a society and acclimatised to different cultures of the areas of his assigned territory in diffent states of Nigeria".
Speaking further, he said, "as a distinguished senior officer of the Nigeria Police Force, AIG Ari Ali Mohammed is a unique officer, worthy of emulation, hence, in character reference, is not tribalistic, he is impartial when it comes to judging matters, he treats all rivals or disputants equally"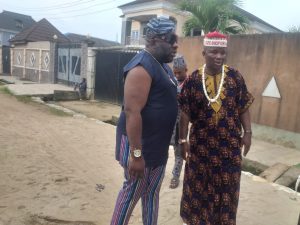 The new title bestowed upon him by the Igbo speaking Community and the Ndieze titled " Agu N'Echu Mba Ndigbo" is a reflection of an achievement in competence and character".
The chieftaincy title "Nwanne Di Na Mba 1"was bestowed upon Chief Olasukanmi Idowu, who is best known as "Omo Oba" Ijegun, along side wife tiled with UGO EZE. Chief Olasunkanmi Ismail Idowu in an interview with the pressmen expresses deep gratitude for the honorary title.
"Am very grateful that Igbo speaking community recognised my good works, am not not a tribalistic person when it comes to handling the affairs of the ijegun people especially in the land disputes, different ethnic groups are residents here under the leadership of my father, i see all the Igbos as one true family in unity.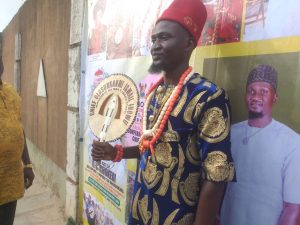 I have been making serial efforts in keeping peace irrespective of various ethnic backgrounds, this title bestowed upon me today will be a stimulant to ginger me to take rightful steps and make rightful decisions in the community affairs, which will bring peace and development to Ijegun. I hereby appreciate the Igbo speaking Community for counting me worthy of this great honour"
One of Chief Olasunkanmi Ismail Idowu's friend known as Segun CEO Autos also in an interview said, " Omo Oba as a good man, he truly deserves the honorary Chieftaincy title, the peculiarity of prince is that, he is totally against land grabbers, the of act of land grabbing is totally the opposite direction to him, he resolves land conflicts amicably without any sentiments."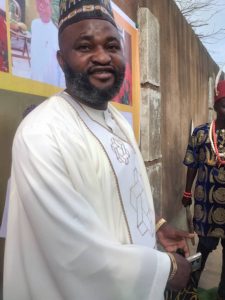 He added that, "Omooba is friendly and ccommodating with other tribes, my advice for him is to keep it up. I will also Commend Eze Dr. CC Nwokedi for his  wisdom and understanding as a royal father for embracing peaceful coexistence irrespective of different tribes".
Chief Sunday Udeh, President general Igbo speaking Community in Lagos while speaking with journalists said, "The purpose of the chieftaincy recognition is to promote unity, peace, love amidst the ethnic groups. The two important people conferred are praiseworthy and it will bring cooperation and unity to both the indigenes and non indigenes."
Speaking further, Chief Sunday Udeh lauded AIG Ali Mohammed, "he is a dedicated, reliable and has understood the importance of keeping commitments, he restated that AIG Ali has worked tirelessly in the six geographical states in the South West and he is a Capable senior Officer before he even became the AIG".
Talking of the accomplishments of Eze CC Nwokedi, Chief Sunday said "he is a man of great repute in reference to his phillantropic gestures and selfless service to humanity in Lagos and East"
Hon. High Chief Prosper Chukwuka in an interview with the journalists applauded th AIG Ali Ari Muhammed, he said, "he is a man of dignity who has worked relentlessly in Lagos for many years, he  deserved othe Igbo title/ Award. I will also commended all the efforts Eze Dr. CC for  promoting, Peace unity and togetherness.
HRH Eze Dr. C.C Nwokedi, Eze okpoko 1,Okpoko1 of Obodoukwu Eze Ndigbo ijegun & Ijeododo land, Former Chairman Ladipo Market, Chairman Council of Ndi Eze igbo Speaking Community Lagos, and  the host, in an interview with the pressmen said, " AIG Ali Ari Muhammed deserved to be the best AIG and has been awarded because of his Performance far exceeded expectations, firstly as Divisional Police Officer Apapa, Area Commander Apapa, Deputy Commissioner Lagos State Command as DC Ops, Commissioner of Police Delta State and now, AIG Zone 2, he has worked assiduously and he deserved this honour.
"THE BEST SECURITY MAN OF THE YEAR" AND THE BEST AIG " I knew AIG Ali Ari Muhammed when he was DPO Apapa, his worth remained the same he has never loose his value, he is a lovable man, kind, jovial, he loves and respects other tribes equally. His mind is pure. By this virtue, i took up all the expenses to organise a get together to celebrate this great man of honour.
Chief Olasunkanmi Ismail Idowu, is the other titled man, Eze Dr CC Nwokedi said," in different occasion he has shown that he isn't sentimental especially in dealing with conflicts disputes in ijegun he is not tribalistic, with this attitude, he won the hearts of the Igbos in Ijegun". Am using this medium to encourage ourselves to live in peace as one, no other type of blood except only one blood. Let us treat ourselves with utmost respect irrespective of our different ethnic backgrounds.
In my benevolence way, i have decided to help the less privileged because I was once in their shoes, I have tasted what is called suffering with that i cant overlook under privileged people in the society. I have been doing my best and will continue to help them.
"Am telling you now that the honorary Chieftaincy title /awards is not for fund raising nor any of the recipients charged financially. The Chieftaincy title /award was bestowed by merit and will continue like that. "Am also, Officially announcing the date of the widows gathering to express my usual manner of giving back to the society by blessing them materially and financially.
In attendance were;
Chief Sunday Udeh the President General of Igbo Speaking Community
The cabinet chiefs of "Obi Eziokwu" palace
Eze Sunday Ojukwu Ezeudo, Ezendigbo Amuwo Odofin
Members council of Ndieze in Lagos, Eze Ndigbo Ibeju Lekki, Francis igun
Eze Ndigbo Apapa
Eze Ndigb Eto Osa..
Obi Udo of Ijegun Ijeododo,
Hon. High Chief Prosper Chukwuka
The cabinet chiefs of "Obi Eziokwu" palace
CSO of Tradefair High Chief Chuka Christian Mekaowulu,
Representative of AIG Ari Mohammed Ali, Mr Chijioke Uzorue a businessman.
Executives of Igbo speaking community
Prince Olusukanmi Idowu, wife and cabinet chiefs of Ijegun palace, friends, guests and business Partners.
And other important guest not mentioned.
PHOTO CROSS SECTION
e