DCI OO ADEDIGBA RECEIVED A MERITORIOUS AWARD OF EXCELLENCE IN SAFETY MANAGEMENT ( AMBASSADOR OF PEACE AND SAFETY).
Adunni Adetola
The Torch News Media presented a Meritorious Award Of Excellence In Safety Management ( AMBASSADOR OF PEACE AND SAFETY) to DCI Adedigba OO, the Passport Control Officer of Fesac Town, Lagos State Command Zone A, on Friday, 3rd November 2023.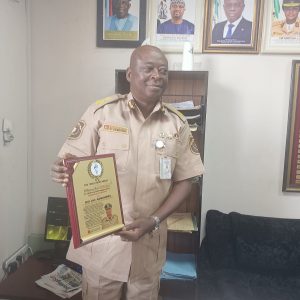 In recognition of his immense commitment, selfless service, relentless efforts in safety management. Ability to render friendly, qualitative services, monitoring passport applications, passport renewals, complaints, processing, issue of passports, ensuring new applicants procurement process of passports, enhancing service delivery and effectively educating applicants on the use of Online Passports registration in line with Nigeria Immigration Service policy.
His magnificent exploits, proactiveness and responsiveness as Passport Control officer in Festac town, through effectiveness and intelligence in maintaining orderliness and peace, has delivered a qualitative Services to the people.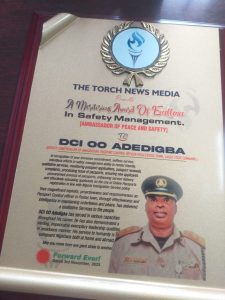 DCI OO Adedigba has served in various capacities throughout his career, he has also demonstrated a sterling, impeccable exemplary leadership qualities in assiduous manner. His service to humanity is to safeguard Nigerians both at home and abroad. May you move from one giant Stride to another. Forward Ever!
The organisation has commended the great and selfless efforts of the serving officer who is dedicated, reliable, trustworthy, and has understood the importance of keeping commitments.
Festac Town Passport Office is known for its effectiveness, orderliness, accountability, peaceful and immense services.
The media outlet, as a way of appreciating the efforts of men and women of the Commission who are totally dedicated to their duties by protecting, safeguarding lives and property of citizens proactively.
These seamless efforts are commendable and must also be ascribed to the CGI Wura-ola Caroline Adepoju fsi and the ACG KA Sadiq, Zonal Coordinator, Zone A headquarters, Lagos State.