TOP STORIES: "Nigerians Will Begin to Buy Petrol at N180 Per Litre": Says Primate Ayodele, Reveals When.
Adunni Adetola
Primate/ Prophet Elijah Babatunde Ayodele, a Lagos based cleric has said fuel prices will soon drop in Nigeria Primate Ayodele stated that citizens will begin to buy petrol "at an affordable price" and joy will come. The federal government has increased the price of petrol twice since the inception of the present administration.
The leader of INRI Evangelical Spiritual Church, Ejigbo in Lagos, Primate Elijah Ayodele, has projected that the pump price of Premium Motor Spirit (PMS), otherwise known as petroleum, will crash from the current N617/litre to N180. Ayodele who predicted this in a recent video asked Nigerians to be hopeful.
According to him, the forecast springs from what he described as the competition inherent in the PMS price modulation.
It would be recalled that President Bola Tinubu on assumption of office increased the price of fuel from N165 to N530 and from N530 to over N600. As a result, there is a consequent effect on the economic activities in the country.
The cleric said: "I'm seeing a petrol price. Nigerians need to be so patient. The price of petrol will crash. "Let's say petrol will still come to about 180 thereabouts. But it might take a bit of time. But not too long. I think some months"
This" time again, I see fuel price dropping in Nigeria and people will begin to buy petrol at an affordable price."
He added: "Companies that the government has given the license to import, they are going to crash the price. So let us be very hopeful about the price of Petroleum".
Court Stops Akeredolu, Lawmakers From Removing Ondo Deputy Governor, Lucky Aiyedatiwa.
A Federal High Court sitting in Federal Capital Territory Abuja has restrained the Ondo State House of Assembly from impeaching the Deputy Governor, Lucky Aiyedatiwa, over alleged gross misconduct.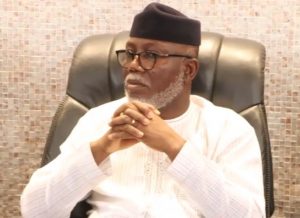 The court also restrained the state Governor, Rotimi Akeredolu, from nominating a new deputy governor and forwarded the same to the lawmakers for approval pending the hearing and determination of the substantive matter.
In a ruling delivered on Tuesday, Justice Emeka Nwite, after Aiyedatiwa's counsel, Kayode Adewusi, moved the ex-parte motion to the effect, stated that the interest of justice would be met by granting the application. The judge, who gave the ruling after listening to Adewusi, said: "Therefore, the application of the applicant succeeds".
The embattled deputy governor had, in a motion on notice marked: FHC/ABJ/CS/1294/2023, sued the Inspector-General (I-G) of Police and the Department of State Services (DSS).
Others are Gov. Akeredoku, Speaker of the House of Assembly, Chief Judge of Ondo State and the House of Assembly as 1st to 6th respondents respectively. In the application dated and filed by Mr Adelanke Akinrata on September 21, Aiyedatiwa sought four reliefs.
The judge further made an order of interim injunction restraining Akeredolu, his servants or privies from harassing, intimidating, embarrassing and preventing Aiyedatiwa from carrying out the functions of his office as deputy governor of Ondo State.
Justice Nwite, who granted all the reliefs adjourned the matter until Oct. 9 for hearing. Aiyedatiwa had, also in another suit marked: AK/348/2023 prayed to the High Court in Akure to stop the state's house of assembly from proceeding with the impeachment proceedings against him pending the hearing and determination of the suit filed in the court on Monday.
"Tinubu should Activate State Police, Politicians will become Terrorists Target"- Primate Elijah Ayodele.
The leader of INRI Evangelical Spiritual Church, Primate Elijah Ayodele has sent a message to President Tinubu. According to him, Tinubu should activate state police to combat insecurity in the country.
Primate Ayodele revealed that the rate of insecurity will be alarming, adding that the existing security operatives will not be able to handle it, hence the need for state police.
In a statement signed by his spokesman, Oluwatosin Osho, Ayodele mentioned that more hands are needed, and state police will be very effective in this area.
He stated that terrorists will soon start targeting politicians for attacks, and it will get to a point where they will start walking and moving with fear.
According to Ayodele, the government should activate CCTV in sensitive areas to effectively combat insecurity.
He said, "The government should introduce state police and activate it as soon as possible to combat insecurity in the country.
"The rate of insecurity will be alarming, and the military, police, DSS, and NSCDC will not be able to handle it. ''The government should activate CCTV cameras to fight insecurity. We need more hands to fight it; it will get to a point where politicians will be moving with panic and fear. "They will become targets of terrorists; there will be kidnappings among them."
No nationwide strike as Federal government reveals President Tinubu's plan.
The spokesperson for the labour ministry, Olajide Oshundun, said the meeting scheduled for Tuesday, would be centred on the pronouncements that would be made by President Bola Tinubu during his October 1 Independence Day broadcast.
He said, "We will avert the strike. We got the news of their intention to go on strike. They need to be rest assured that there will be a pronouncement in the October 1 speech of Mr President for Nigerian workers.
"The ministry is working assiduously to meet with the second aspect of the demand which focuses on the wage award. We have already secured the release of the NURTW factional chairman.
"So we hope to invite them on Tuesday following the pronouncement of the President to see reasons for them to call off the strike."
Senate confirms nomination of Dr.Yemi Cardoso as CBN governor.
The Senate has confirmed the nomination of Dr Olayemi Cardoso as the Governor of the Central Bank of Nigeria, CBN.
Cardoso was screened alongside four nominees for the positions of CBN Deputy Governors,  to steer affairs of the apex bank in the next five years.
The deputy governors include: Emem Nnana Usoro, Muhammad Sani Abdullahi Dattijo, Philip Ikeazor, and Dr. Bala M. Bello.
Recall that last week, Cardoso resumed as the CBN governor in an acting capacity pending his screening and expected confirmation by the Senate.
Meanwhile, the Senate has also scheduled the screening of two additional ministerial nominees by  President Bola Tinubu for Tuesday, October 3, 2023.
The President, while the National Assembly was on break, appointed the duo of Dr. Jamila Ibrahim and Ayodele Olawande as Minister of Youths and Minister of State for Youths respectively
How I will tackle inflation, naira, forex crises, by Cardoso.
Tuesday began the tenure of Micheal Olayemi Cardoso as the 12th Central Bank of Nigeria (CBN) governor following his clearance for the position by the Senate.
He promised to provide transparent and focused leadership with full adherence to the rules and return the apex bank to its core monetary policy responsibility.
He also pledged to work in synergy with the fiscal authorities in the overall interest of the economy in the short and medium term. Cardoso, 66, a former chairman of Citi Bank, was Lagos State Commissioner for Budget and Economic Planning.
He  spoke during his screening alongside the four deputy governors by the Senate. All of them were cleared. The deputy governors are:  Emem Usoro, Muhammad Sani Abdullahi Dattijo, Philip Ikeazor and Dr. Bala M. Bello.
The deputy governors also responded to some of the questions posed by senators, including Senate President Godswill Akpabio. All the nominees left the senators in no doubt about their capacity and capability.
Cardoso said for 12 years, between 2010 and 2022 he had the privilege of serving as the chairman of Citi Bank where: "I dedicated myself to enhancing both the financial and non-financial operations of the institution.'' He told the Senate that the issue of exchange rate of the Naira to other currencies was worrisome.
"For the type of economy that we want, we need to have an exchange rate that is stable and we must apply short and medium term measures to achieve this,'' he said.  Cardoso added that CBN's new management team would evolve rules that were open and transparent and comprehensible by all players in the finance business.
"We cannot expect serious foreign investors and portfolio investors who have an impact on the market to do so if we do not have a transparent system that everybody understands and can rely on,'' he said.
On inflation, he said: "There is the need to significantly revamp the infrastructure at the central bank with respect to data and to ensure that our data gathering capacity is significantly enhanced.
"This is necessary so that we can make decisions based on stellar data. This is crucial in measuring inflation,'' he stressed.
He added that reliable studies showed that in the past 10 years to 15 years, at least 50 per cent of inflation resulted from money supply and deficit financing.
"This is a big problem; at least it certainly has been over a period of time and it is something we have to face frontally.
"You have been hearing a lot of complaints. There are various measures to be taken and some of them are already being taken like the removal of fuel subsidy and fast-tracking the collection of taxes," he said.
Cardoso added: "In refocusing CBN to its core mandate, there is need to pull the CBN back from direct development, finance interventions into more limited advisory roles that support economic growth. These advisory roles would include, for instance, one, act as a catalyst in propagation of specialized institutions and financial products that support emerging sectors of the economy, facilitate new regulatory frameworks to unlock enormous capital, accelerate access to consumer credit, and expand financial inclusions to the masses."
He assured  the Senate that the CBN under his watch will not be hijacked or used by politicians.
He said: "This is a position of great trust and with that it comes  with huge responsibility to meet up that trust …and my idea is to do what is right and how it is right. We have seen the effect of not doing what is right and we do not intend to go that route.
"Secondly, on the issue of not obeying the hallowed chambers' summons for conversation, frankly, I have absolute no doubt that that has got to be part of the engagements that I spoke about earlier.
"Part of that is that the law specifies that such dialogue should take place twice in a year and as I said in resetting the Central Bank, we must ensure that we do not run foul of the law.
"It goes back to the issue of culture of compliance. We are going to ensure we maintain a culture of compliance in the CBN. There will be zero tolerance for non-complying with orders and I can assure you that that tone would be fully set from the top."
He added: "What is important to us is the element of economic growth. Our feeling is that in identifying the important issues with economic growth, we believe very strongly that size matters.
"The economic policy proposal of the administration has identified a set of fiscal reforms and growth patterns that   will achieve  $1trillion GDP within  eight  years.
"In reviewing selected  growth targets that can achieve $1trn GDP, selected countries with large population and similar characteristics as Nigeria, it is interesting to  identify micro-economics indicies that points to Nigeria's economic trajectory, being faithful to implementation of the proposed economic reforms.
"In economies bigger than $1trillion, these indices include moderate inflation, sizeable foreign reserves and capacity to creating rebound from economic downturns.
"In other words, to the extent that the administration has defined such a bold target for the country, it is our feeling that achieving this is very critical to achieve the stability that we require in various economic indices.
"It is not the only thing, but it is very important. So we believe that this is the right way to go.
He insisted that the immediate issues his team would address at the CBN include both Operational and Systems.
He added: "It is what I will term uncorrelalational issues. We are aware that there are unsettled obligations by the CBN. Whether it is $4b, $5b or $7b I don't know but definitely the immediate priority is to ascertain the extent.
"We need to find a way to take care of that. It will be naive for us to be expecting to succeed if we are not able to handle that side of the foreign exchange market.
According to him, the medium term measures in reviving the economy "have to do with balance of payments over a period of time like the sort of things that are being done already with respect to ensuring that we are getting more from petroleum resources with the removal of fuel subsidy and diversifying the economic base of the country.
"That I believe will continue by the present administration and of course it will take time. I think we should take that as a medium term measure than the immediate."
Many financial experts rated  the appearance of the CBN governor and his deputies high, especially their pledge to return the apex bank to its core responsibilities.
I won't be hijacked by politicians – CBN gov, Cardoso.
The newly confirmed governor of the Central Bank of Nigeria (CBN), Dr Yemi Cardoso, has promised that he and his team will not be hijacked by politicians as they discharge their duties.
Cardoso said this while appearing before the Senate during the screening of his appointment on the floor of the Red Chamber in Abuja, on Tuesday.
Senate President Godswill Akpabio had asked Cardoso if he would be influenced and hijacked by politicians when he assumed office.
Responding, the CBN governor said, "It is important that we, who are considered for this position today, understand that this is a position of trust.
"With that comes a huge responsibility to meet up with that trust. I know that a lot of time and effort has gone into choosing the people who are standing here for nomination today.
"As far as I am concerned, under my leadership, we will not be hijacked by anybody. The idea is to ensure that we do what is right, when it is right, and how it is right. We've seen what the effect of not doing right has been, and we do not intend for that to be repeated."