RevolutionPlus Property Allocates plots of land for Over 100 Customers In Three Weeks, Assures More Quality Services.
Adunni Adetola
Nigeria's foremost real estate company, RevolutionPlus Property has recently allocated over 100 customers across three of their estates in Lagos State. The customers expressed great excitement as they physically took possession of their plots of land.
According to a press statement signed and released to the newsmen on Monday, 13th Feb. by the spokesperson of the company, Ronke Idowu reads,
"The bunch of physical allocation was done to attend to the demands of customers in the various estates and to solve the issue of pending allocations in some of the estates.
"We also assured that many more allocations will be done in subsequent weeks."Happy clients make us proud and fulfilled. Two weeks ago, we allocated our clients at Graceland Estate, Igbooye Epe.
"This weekend we allocated customers in Legend Smartcity, Lekki-Epe and Dallas Court, Ibeju-Lekki. The smiles on the faces of our clients mean a lot to us and we are dedicated to continue making them happy, bringing their real estate dream into a reality.
"For all our clients that bought into Dallas Court, Houston Park, and Miami Beachfront and are yet to be allocated, you are next starting with Dallas Court they should be assured that they will get allocated," she stated.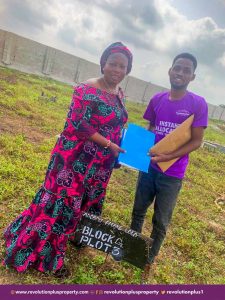 The Group Executive Director of the Company, Mrs Tolulope Onalaja in her words.
"I  appreciated customers who believed strongly in the name RevolutionPlus Property. I assured that the company doesn't take them for granted and will deliver all promises made.
She further explained that, "although some customers have experienced delayed allocation in Miami Beachfront, Ibeju-Lekki and Houston Estate Ibeju-Lekki due to some encumbrances peculiar to that location, the management is on top of the situation and efforts are ongoing to ensure that affected customers are physically allocated soonest.
"We appreciate our customers who believe strongly in us and we don't take this dedication for granted despite bad narrative by some mischief makers on social media.
"RevolutionPlus is a global brand and will not relent in giving the best services. Despite the challenges of real estate in this country we will deliver on all our promises made to our customers.
"We have learnt to serve our customers better. We have improved our structure to ensure seamless allocation of our clients and all pending physical allocations will be done one after the other as we are not relenting in our efforts."We appreciate all affected clients for their patience." Mrs Onalaja said.
RevolutionPlus Property has been in operations in Nigeria for over nine years with branches in various regions of the country including Ikeja, Lekki, Abuja, Abeokuta and Abuja, the Federal Capital territory.
The company boasts over 9,600 subscribers, 43 Estates and eight mega housing projects.