OGUN NSCDC STATE COMMANDANT WELCOMES NIS CG ALONGSIDE OTHER SERVICE COMMANDERS.
Adunni Adetola
The State Commandant, Nigeria Security and Civil Defence Corps, Ogun State Command Headquarters, Abeokuta, Commandant Niyi L. Ajibola, joined other service commanders in the State to welcome the Comptroller-General, Nigeria Immigration Service, Isah Idris Jere, MFR, at the ground breaking ceremony of its Passport Office, Oke-Mosan, Abeokuta, on Wednesday.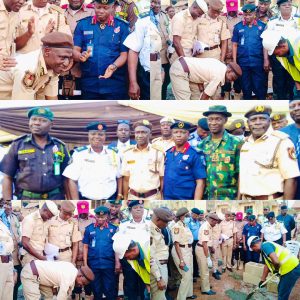 The Comptroller General lauded the synergy, collaboration and unity amongst all services in the State and urged them to continue in that manner while also seeking their support to ward off non-Nigerian citizens during the upcoming General Elections.
According to the CGI,"The Passport Office will be completed in no distant time and it is meant to create a seamless production of electronic passports to all Nigerians in the Gateway State", he noted.
He also appreciated the warm welcome and reception accorded to him in his visit to the State by all services while also noting that it is not taken for granted.

"We all have a common enemy. We are working towards the same goal and to this end we should share actionable intelligence amongst ourselves so we could defeat all forms of threat, banditry, kidnapping and other violent extremism across our borders", he concluded.