2023 Elections: 93 million voters to participate as INEC gives breakdown of figures nationwide.
Adunni Adetola
The Independent National Electoral Commission, INEC, has declared its determination to proceed with the conduct of the February/March general elections, two days after it expressed fears about the wave of general insecurity across the country.
lNEC had lamented, on Monday, that if not tamed, the ugly trend of pre-election violence could precipitate a constitutional crisis by way of the forced cancellation of election results or outright postponement of polls.
Presenting the register of voters to chairmen and secretaries of Nigeria's 18 registered political parties, yesterday, in Abuja, INEC Chairman, Professor Mahmood Yakubu, said the commission had been bolstered by assurances by Nigeria's defence, security and intelligence architecture that it would ensure a conducive environment for the polls.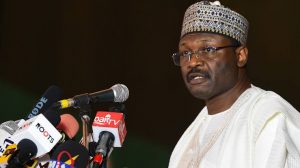 Consequently, the electoral umpire said it has commenced the airlift of sensitive and non-sensitive materials to states.
Yakubu noted that with just 44 days to the General Election, and with the presentation of the register of voters to political parties, the Commission has now successfully implemented 11 out of the 14 activities on the timetable and schedule for the polls.
According to him, the implementation of other activities has proceeded in earnest.
Yakubu added that at no time in the recent history of the Commission has so much of the forward planning and implementation been accomplished 44 days ahead of a General Election.
You would recall that for the 2019 General Election, Nigeria had a voter population of 84,004,084. After the cleaning up of the data from the last Continuous Voter Registration (CVR) exercise (June 2021 – July 2022), 9,518,188 new voters were added to the previous register resulting in the preliminary register of 93,522,272 which was presented to Nigerians for claims and objections as required by law.
"At the end of the period for claims and objections by citizens, the Commission received 53,264 objections from Nigerians to the prevalence of ineligible persons on the register by virtue of age, citizenship or death. These names have been verified and removed from the register."Consequently, the register of voters for the 2023 General Election stands at 93,469,008. Of this cumulative figure, 49,054,162 (52.5%) are male while 44,414,846 (47.5%) are female.
The distribution by age group shows that 37,060,399 (39.65%) are youth between the ages of 18 and 34; 33,413,591 (35.75%) are middle-aged persons between the ages of 35 and 49; 17,700,270 (18.94%) are elderly voters between the ages of 50 and 69 while 5,294,748 (5.66%) are senior citizens aged 70 and above.
In terms of occupational distribution, students constitute the largest category with 26,027,481 (27.8%) of all voters, followed by 14,742,554 (15.8%) farmers/Fishermen, and 13,006,939 (13.9%) housewives.
"The data on disability was not collected for previous registration. However, the cumulative figure of 85,362 persons from the recent CVR indicates that there are 21,150 (24.5%) persons with Albinism; 13,387 (15.7%) with physical impediment and 8,103 (9.5%) are blind," he added.
North gets 50.162m voters, South 43.305m
A breakdown of the 93.469 million voters shows that the 20 states of the North have 50, 161,722 voters while the South has 43,305,286 votes
North-West, South-West top zones.
Among the six geo-political zones, the North-West has the highest number of voters with 22,255,562 voters. It is followed by South-West which has 17, 958,966 and North-Central including Abuja, the Federal Capital Territory with 15,363,731 voters.
South-East has the least number of voters with 10,905606 followed by North-East, 12,542,429; and South-South, 14,440,71.
Lagos, Kano, Kaduna've highest voters
A state-by-state breakdown showed that Lagos State with 7,060,195 registered voters topped the register, followed by Kano with 5,921,370 and Kaduna with 4,335,208.
Ekiti has the least number of voters with 987,647 followed by Bayelsa, 1,056,862; and Yobe, 1,485,146.
Others include:
Abia – 2,120,808
Adamawa – 2,196,566
Akwa-Ibom -2,357,418
Anambra- 2,656,437
Bauchi – 2,749,268
Benue – 2,777,727
Borno – 2,513,281
Cross River – 1,766,466
Delta – 3,221,697
Ebonyi – 1,597,646
Edo -2,501,081
Enugu – 2,112,793
FCT, Abuja – 1,570,307
Gombe 1,575,794
Imo – 2,419,922
Jigawa – 2,351,298
Katsina – 3,516,719
Kebbi – 2,032,041
Kogi -1,932,654
Kwara -1,695,927
Nasarawa – 1,899,244
Niger- 2,698,344
Ogun- 2,688,305
Ondo -1,991,344
Osun- 1,954,800
Oyo -3,276,675
Plateau- 2,789,528
Rivers- 3,537,190
Sokoto -2,172,056
Taraba-2,022,374
Yobe -1,485,146
Zamfara – 1,926,870.