Art of Technology in Lagos: Speakers Proffer Solutions on how best to harness Talents for industrial revolution.
Adunni Adetola
The Art of Technology Lagos (AOT) by Eko Innovative Centre in collaboration with Lagos State Government held its 4th conference on the 8th of December, 2022 at Landmark Event Centre, Lagos.
It is an annual tech Conference organized by Eko Innovative Centre, one of the leading tech hubs in Nigeria, organisers of event like Lagos Smart Meter Hackathon, in collaboration with Lagos State Government.
The Art of Technology Lagos 4.0 (AOT),Talent Acceleration and smater Lagos an innovation master plan.
The Conference brings together technology industry stakeholders, policymakers, ecosystem players, investors, business founders and executives.
The AOT, till date had an accumulated number of over 30,000 participants,171 speakers, 16 keynotes speakers also,10million engagements from 111 countries.Since its inception ranging from startups to investors to tech founders has raised the bar for its fourth edition.
In the journey towards a Smarter Lagos, having a Talent Acceleration Strategy in place is a highly critical need. Maintaining growth and development in a global environment requires an agile competitive talent that performs at full capacity; and an organization that can quickly close skills gaps.
Art of Technology Lagos 1.O gave birth to the Lagos Innovative Master Plan.
AOT 2.0 saw the launch of Startup Lagos & Eko Opensource, an innovative information portal that sought to deliver critical insights into Technology startup ecosystem and a platform that serves as a bridge for private sector developers to solve governmental technology challenges.
AOT Lagos 3.O. engaged founders and policymakers to highlight challenges with attracting funding and create enabling policies to increase the attractiveness of startups to investors.
AOT Lagos 4.O is set to facilitate multi-stakeholder engagement, discussion and collaboration around Talent Acceleration as an enabler of the smarter.
The event was graced by the Lagos State Deputy Governor, Dr, Obafemi Hamzat, representing the Governor, Mr Babajide Sanwo-Olu, the Lagos State Honorable Commissioner of Science and Technology, Mr. Hakeem Fahm, the Special Adviser on Innovation and Technology, Mr.Olatunbosun Alake, The founder, Eko Innovation Centre/,CEO, Jason Holdings, Mr Victor Gbenga Afolabi. Guest of Honour, the Resident Representive,UNDP Nigeria, Mr Mohamed Yahya.
The Deputy Governor of Lagos State, Dr. Kadiri Obafemi Hamzat in his address, "In preceding AOT events, we have been able to foster value creating contributions that have enabled a deeper and better collaborative relationship with the ecosystem. With 25,000 online and offline attendee registrations this year, your participation has enabled this event to be one of the largest in Nigeria.
"The continuing success of this gathering is a testament to the platform it provides to both public and private sector stakeholders to co-create and drive value in this ecosystem. We are particularly enthused to see the growth this ecosystem has experienced over the years.
" According to Startup Genome, Lagos is now the number one technology startup ecosystem in Africa in terms of funds deployed. It is the number one ecosystem in terms of performance and sheer number of startups creating value. Between 2019 and 2021, over a 120% increase in Venture Capital inflow into Lagos was realized resulting in 1.5 billion dollars in VC funding in 2021 alone. We have records of over 2000 Startups creating and contributing value across Fintech, Agritech, Construction, Health and so on. All of this points to an open and enabling environment for the growth and proliferation of entrepreneurial activity within the technology ecosystem.
"As was witnessed during the telecommunication boom of the early 2000s, Lagos has provided the central core of business and technological development in Nigeria for decades. Most major technology and telecom firms in Nigeria are headquartered and do most of their business in Lagos. The entrepreneurial environment and the open support for technology
---
this administration's increasing focus in innovation in a bid to drive value outputs for this ecosystem.
"This administration's contribution is evidenced in the different implementations and initiatives contained in Lagos States' first Innovation and Technology Masterplan; a plan that was launched during the first edition of this AOT event showcase.
"The masterplan contains multiple strategic pillars which cascade in multiple tactical initiatives. Since the first AOT gathering, we have ignited the Lagos State Science Research and Innovation Council, a body consisting of private and public sector professionals tasked with intervening directly in the ecosystem through funding.
"The result to date has seen over 60 startups receive funding of between 5,000 and 12,000 dollars in the past 2 years. This funding constituted some of the initial runway rounds for startups that have gone to raise millions of dollars in funding. LASRIC gave many of these startups their initial funding opportunities. In deepening internet penetration, we have concluded over 2,900km of optic fibre deployment across the state.
"This has connected about 100 schools. We have partnered with some telcos that are using our installed fibre optic ducts to power their 5G based stations. As you well know MTN launched its 5G service this year. The ducts we have installed has further enabled significant de-risking of this telco infrastructure market. In the past 1 year, Lagos has attracted over 1 billion dollars in Data centre investment. This will enable the local domicile of digital platforms as well as open our State for more digital technology opportunities. The proliferation of these investments also presents opportunities for talent development within this ecosystem.
" Our Smart City implementation has seen us deploy over 600 Smart Intelligent Video Surveillance Cameras as well as Intelligent Transportation Cameras for Traffic monitoring and management. Over the past year, through our initial ITS pilot deployment leveraging our Automatic number plate recognition cameras, monitoring of violation infractions has reduced VIO in person enforcement by 30%. Basically, in person enforcement that usually leads to issues with officers has reduced.
"This implementation continues. We have begun a significant identity management program through our Lagos State Residents Registration Agency that will seek to identify all our inhabitants. Current projections state that Lagos will have 30million inhabitants by 2035. It is imperative to drive the identity management ecosystem for a smarter city. This will lend to more efficient resource allocation and planning for the state. LASSRA has undergone a fundamental restructuring of its operational model. With a new digital identification card with capabilities that enable access to benefits, electronic ticketing and so on, it further drives the digital inclusion benchmark for Lagos.
"Currently about 6.5 million residents have been captured. We are targeting another 10million within the next year In education, through the Eko Excel Project, we are digitizing the learning experience for both teachers and students. Through the introduction of smart devices and experiences. The EkoExcel projects seeks to raise learning outcomes in students by multiple percentage points. Currently the ministry of Education is running new Comprehensive School Curriculum in about 100 schools.
The Curriculum contains new subjects such as digital courses in coding and robotics, This is with the aim to drive more industry standard learning experiences from a younger age. Through our Lagos State Employment Trust fund, we have funded the digital skills training interventions for more than 4000 beneficiaries. Courses include digital marketing, coding and other innovation courses.
"These digital skills training are needed capacity interventions that lend positively to the development of the ecosystem.
The founder, Eko Innovation Centre Mr.  Victor Afolabi in his Opening remarks at AOT Conference. "This is the conference's fourth annual meeting, the largest technology conference in brings together important public and commercial sector stakeholders to explore policies and strategies that will help Lagos become smarter, digital, efficient, and competitive over time.
"Today, we anticipate having more than 30,000 participants, up from our initial starting point of 2000+ in 2019. We are, in my opinion, at the appropriate moment and place to be attending this conference. Let's work together to speed up the sharing of ideas and adoption of effective techniques.
"We all recognize the value of innovation, science, and technology in our daily lives and how they are changing the world. Our participation in this massive effort is equally crucial.
"Our experience with AOT has persuaded us that the only way we can actually accelerate progress and decrease inequality is through multi-stakeholder and multi-lateral cooperation by tasking technology. It is a collaborative space for decision-makers, business owners, entrepreneurs, financiers, diplomats, and members of civil society.
"Talent Acceleration and Smarter Lagos will be our focus. Therefore, we are creating a 10-year roadmap to widening the talent acceleration pipeline to achieve talent sustainability that will deliver the Smarter Lagos.
The Deputy Governor, Dr. Obafemi  Kadiri presented the awards to the winners of innovation and Ideas Competition.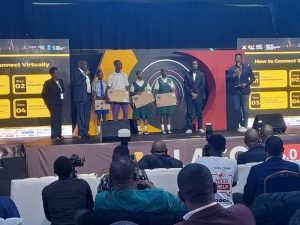 The first keynote speaker, Mr. Sumch Tarek, Managing Director, BDTask Ltd, Bangladesh spoke of topic: Tech Talent in Africa,The Bangladesh Model.
The 2nd Keynote Speaker, Mr. Abubakar Suleiman, Chief Executive Officer, Sterling Bank Plc, discussed on the topic: Building Resilient Talent for Digital transformation.
Ist Plenary Discussion UNDP Session, The lead discussant was Mr. Lars Christer Johannisson, Chief Executive Officer, Africa Teleperformance. Other plenary Speakers were Mr. Kashifu Inuwa Abdullahi, Director General, NITDA was represented by Mr Usman, Mr. William Tsuma, senior Advisor, UNDP, Dr. Bayo Adekanmbi, Founder/ Lead Consultant, Data Science Nigeria, Mr. Tokunbo Wahab, Special Adviser to the Lagos State Governor on Education and Ms.Olamidun Ogundoyin, Country Director, Nexford University as the Moderator, discussion on the topic:Tech Talent Workforce Towards Economic And Societal Growth.
2nd plenary Session, the lead Discussant was Prof. Abiodun Adebayo Vice Chancellor Covenant University. Other plenary Speakers were Ms.Thessa Brongers Bagu,representative, Ireland Republic,Mr. Average Adeyipo, Group MD/Chief Executive Officer, CWG Plc, Mr.Robert Taiwo, Managing Director, Phillips Consulting Limited, Mrs. Folashade Adefisayo, Honourable Commissioner of Education, Lagos State, Prof. Idris M.Bugaje, Excutive Secretary, National Board for Technical Education and Oreoluwa Boboye, CEO, Johnathan as the Moderator, discussion on the topic: Workforce Talent Strategy: Building The Public Workforce of the Future.
Speakers at this year's Art of Technology in Lagos have identified talent as pivotal in the industrial revolution in Nigeria and called on the government and the private sector to invest heavily to be able to harvest it.
The Deputy Governor of Lagos State,  Dr. Obafemi Kadiri responded to questions from the journalist on energy, education and infrastructure, what is the state government doing in this direction?
"Do it within your limitation. We now have laptops that can work for 8 hours when fully charged. So that is what Lagos state has done for example in terms of education. All our teachers now have tablets that if you charge will last you for a week if you go to the rural area.
"You know teachers have their teaching plans, those teaching plans are already in the system, they do not need to write it again. We can also determine when a teacher is in the classroom and when he is not and then each one of us in the state executive council that is interested; for me now, I have all the primary schools, 1,019 of them, I have it on my laptop, I can check any school, I can check the number of pupils in Primary 1A, how many came in on time and how many came late.
"IA child is late for three days, for example, you can go and ask the family what is going on. The essence is to use technology to manage education. So we are deploying technology to assist our teachers, to assist our students and assist our doctors and so on. So, in terms of power, for some of the things we have done, if you noticed, there's a bill now at the House of Representatives and it is trying to restructure NEC.
"So, what's happening now, is that as at today, only the federal government controls electricity and we are saying no! Let the states also control electricity. Lagos, for instance has two Discos-Eko Discos and Ikeja Discos. Interestingly, they serve only the state. So, why can a state like Lagos interact with that, if we need to impress them to serve our state and then w take whatever equity. Whatever we need to do, so we discuss it, we don't want to now conflict with the regulations, so that is why we as professionals are trying to find a way to liberalize it and make sure that states have control and all the pillars are being addressed.
How does the state plan to implement the Nigerian start-up. "I think the country need to learn from us, so that bill, actually sort of started from Lagos, like if you go to Dubai, do you know how many start-ups Lagos state took there, 13 of them actually became finalists? Lagos took them there. Lagos is actually the centre of start-ups in Africa today. We are bigger that Johannesbugh. So, what we are trying to do is, don't bring everybody to Lagos, let us spread out to the other parts of the country. The country needs to learn a lot from us in terms of what we have done."
Mr. Victor Afolabi, founder Eko Innovation Centre and the Curator of Art of Technology, Lagos while speaking to newsmen said, "We see the need to break the gap between Tech ecosystem players and policy makers because policy always lacks innovation because the only way we can be sure we have innovation that can benefit our people is to make sure that policy and innovation are in tandem and that is why we have had Art of technology from 1.0 to 4.0.
"So what was the conversation today, it was about talent. Talent has become a big issue and like the UNDP resident director said, talent has become as scarce as any other commodity today. So talking about the initiative of the Lagos state government to go down the pyramid to discover young talents, it only shows intentionality to grow the talent pipeline to be able to fill the talent pipeline. There's no other way than to go down the ladder to get them when they are still young and when they can be molded to be able to fill our pipeline of talents and to be sure we have the right talent and skill that can help us drive the fourth industrial revolution."
On the funding of start-ups, Afolabi disclosed that the talent acceleration plan would be unveiled.
"Tomorrow, we should unveil the talent acceleration plan and with this is also the talent acceleration fund because we understand that it's not about government funding but how do we mobilize private sector fund to upscale these people. Again, we need to turn our disadvantage, the population of unemployed people into an advantage, make them skilled to fill up the talent pipeline.
"If you listened to some of the keynote speakers, it's not an expensive thing to upscale people. We are going to unveil a robust plan in Lagos and across Nigeria because you saw people coming from the different ecosystems in Africa."
On his part, Mr Olatunbosun Alake, Special Adviser to Governor Babajide Sanwo-Olu on Innovation and Technology noted that the conference was an opportunity to discuss the strategies and the kinds of interventions to be able to stem the tide of talent migration or to look at how best to leverage on that opportunity to create more value for Nigerians.
In a chat with newsmen, the Special Adviser to Governor Sanwo-Olu said, "One of the major key points was highlighting the talent challenge that we have which is really what today is about.
"Over the last number of years, we have done different AOTs that had focused on particular areas of execution. This year is about talent, it's coming at a very auspicious time as well.
"We all know about the Japa syndrome, we all know about all the issues that are facing talents. My presentation highlighted three out of the five ICT engineers actively thinking of migrating.
"So today is about finding solutions and alternatives to stem that tide and one of the presenters said he does not see Japa as an issue rather as an opportunity to export talents because a lot of them will send good remittances and they are also in those places preparing the ground work for more talents to be exported, more products.
"So, if you have talents in the UK, there's a likely possibility that those Nigerian-UK residents will use Nigerian products. This will mean more revenue for our start-ups here. So, it's either you look at the motor half full or half empty. Today is an opportunity to discuss the strategies and the kinds of interventions we need to have to be able to stem the tide of talent migration or to look at how we can leverage on that opportunity to create more value for Nigerians.
"I think the presentation of the CEO of Sterling bank was spot-on. I can tell you right now that the government cannot fund the entire talent need, it's impossible. The private sector has to pick up a lot of those lapses. What the government has to do is to make some policies available so that the ecosystem is enabled. Private sector, actually is supposed to do most of the funding. I can tell you right now that we have under-invested in education and talent capacity funding as a nation.
"We need to spend ten times, twenty times more than what we are spending. If you a US citizen today and you are the citizen of a particular state, you are probably going to get a grants, you are going to get loans to be able to go school. It should not be different here. We need to invest heavily in talent."