Prophet T.B Joshua's Widow, Pastor Evelyn Joshua Rejoices As SCOAN Celebrates One Year Reopening.
Adunni Adetola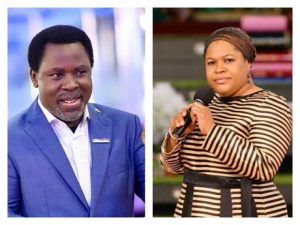 Synagogue Church Of All Nations (SCOAN) held Thanksgiving and Reunion Service. The first thanksgiving and reunion service commemorating the reopening of SCOAN for members to worship after the demise of its founder, Prophet TB Joshua was held on Sunday, December 4, 2022 at the church auditorium, Ikotun, Lagos.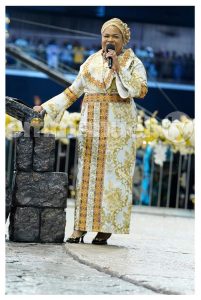 The event was well attended by SCOAN followers in Nigeria and other countries
all over the world including other invited guests. it was an awesome, spirit-filled Thanksgiving and Reunion Service with the theme 'PRESENCE OF GRACE'. The service commenced at 9.00am with worship and praise songs by SCOAN CHOIR.
The welcome address by Evangelist Ope with an opening prayer by Evangelist James. Bible Reading was taken from  Psalm 95:1-7 by Pastor Wade Cantwell.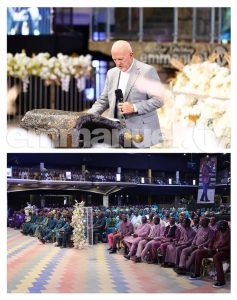 Other foreign gospel ministers, singers, guest artists were Mike Abdul, Kwasi Nhyira Oteng from Ghana. Also, the well known comedian, Destalker and Chioma were the Masters of ceremony
The SCOAN leader, Pastor Evelyn T.B Joshua in her address recounted the successful projects (SCOAN) had embarked upon after a year of reopening.
The woman of God was so delighted and thankful to God for the great accomplishments the church has recorded in a space of one year.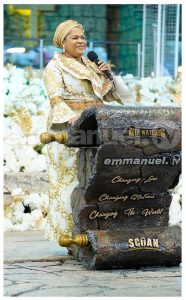 In her words "Our story has been one of success, progress in all dimensions.
"'We have kept moving from one level to the other in our spiritual journey, having the Holy Spirit as our chief driver.
"He has always provided the needed confidence and strength of the spirit for the leadership of the ministry," she said.
Speaking further on the projects, she said: "One task we have taken as a church is to honour the elders who have stood firmly as our pillars."We have supported our old testament members with cash gifts as well as clothes and umbrellas.
"We also extended charity to the needy, orphans, widows and widowers outside the church, through distribution of food items, a tradition started by our General Overseer, Prophet TB Joshua.
"We have a lot of testimonies from our members and partners in 2022. "Viewers all over the world confirm the ever presence of the Holy Spirit in our midst."
Pastor Evelyn also mentioned the offering of a platform: My TB Joshua Moment on Emmanuel TV, to diverse people across the globe "who share a close relationship with our father in the Lord over the years."
Appreciating late Prophet T.B Joshua, she described him as "a man of the people, who interacted freely with everyone including commoners, political leaders, statesmen, religious leaders, industrialists, business personalities and media executives." in short, Everyone who encountered him has a beautiful story to tell on how they were blessed". She said.
The widow of the SCOAN's founder, Prophet T.B Joshua, mentioned
"The programme (My TB Joshua Moment on Emmanuel TV) diverse people across the globe "who share a close relationship with our father in the Lord over the years."
Pastor Evelyn TB Joshua described the thanksgiving as a reunion, "God's faithfulness, love, blessing, favour, mercy, salvation and triumph of His mission for mankind as given to His departed servant, Prophet T.B Joshua."
She commented on 2022 outreach activities in South Africa, co-ordinators' meeting, Living Water service which attracted thousands.
SCOAN leader commended the church groups, diplomatic communities and securities for their support.
Pastor Evelyn Joshua revealed that the ministry is strengthening and waxing stronger, all its departments for an excellent and progressive administration.
Nevertheless, she said the SCOAN Akure, Ondo branch had been renovated, also the Emmanuel School in Pakistan affected by flood had been fixed as shown in the church projected footages. All these had been made possible through the intervention of the holy spirit.
Other notable projects include charity works in collaboration with donors known as Emmanuel TV partners provided relief items to less privileged people. SCOAN also in partner with the Emmanuel TV partners supplied relief materials to the flood victims in Kogi and Delta states.
Pastor Evelyn thereby declared that the thanksgiving service will be an annual event.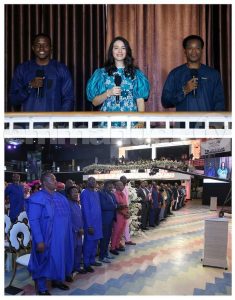 The Torch news media in Lagos, reports that the founder passed on last year June 5, 2021, the church did not reopen till December 5, 2021.
The main auditorium was filled to capacity with ushers available to attend to requests, and ensure decorum, both inside auditorium and outside.
SCOAN officials in collaboration with other law enforcement agencies, police and Lagos Traffic Management Authority (LASTMA) despite the large crowd of people, they were able to discharge their duties accordingly by maintaining peace and orderliness.