NIGERIA IMMIGRATION SERVICE TO COLLABORATE WITH LAGOS STATE WATERWAYS AUTHORITY ON BORDER SECURITY.
Adunni Adetola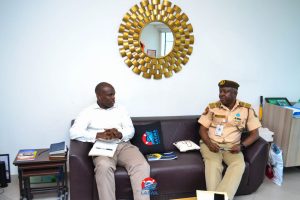 The Zonal Coordinator, Zone 'A' of the Nigeria Immigration Service (NIS), Assistant Comptroller General (ACG) Olakunle Gabriel Osisanya, fdc, accompanied by some Senior officers, visited the Lagos State waterways Authority (LASWA) on Wednesday, 15th June, 2022.
During the visit, ACG Osisanya highlighted the role of the NIS with the respect to border security, especially the need to protect the riverine frontiers with neighboring Benin Republic.
He equally noted the increased use of waterways by travelers between Lagos, Nigeria and Porto Novo, Benin Republic to avoid the delays caused by the ongoing reconstruction of the Lagos-Badagry Expressway.
According to the statement signed and released by the NIS Zone 'A' PRO, ACI R.A OJO pss, noted that the ACG expressed appreciation on the efforts of the Lagos State Government and LASWA towards enhanced welfare of the populace through the regulation and provision of riverine transportation  across the state.
Also, he noted that activities along the riverine route to Porto Novo in Benin Republic, required increased NIS presence. He, therefore requested for collaboration between the NIS and LASWA towards ensuring the immigration clearance of passengers arriving or departing Nigeria through the riverine routes across the Lagos seaport and Marine Command as well as Idiroko Border Command, within Zone' 'A'.
Earlier, the NIS team was received by the General Manager (LASWA) Mr. Oluwadamilola Emmanuel and some members of staff. In his welcome remark, the GM gave a brief on LASWA as being charged with coordination and management of reforms necessary for long-term growth and development of water transportation in Lagos State.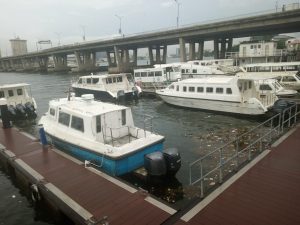 This includes the creation of an enabling regulatory environment to attract private sector investments in the water transport service.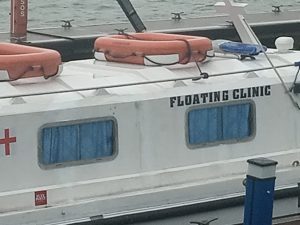 While resounding to the ACG, the GM (LASWA) appreciated the visit of the NIS team and expressed readiness for great synergy with the NIS, in addition to the subsisting collaboration with the Nigerian Navy, Nigeria Custom Service, Nigeria Police Force and LASTMA Marine; towards enhanced national security.
Both parties resolved to form a committee comprising officers from the NIS and LASWA to work out the modalities towards the implementation of adequate security on Lagos waterways enroute the international boarders, within the shortest time frame.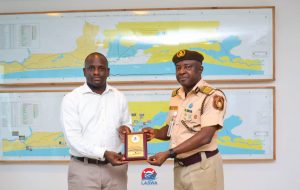 The GM offered the ACG and his entourage, which include Mrs AM Halliday, Comptroller Investigation & Compliance, Mr YO Momodu, Deputy Comptroller Border Management and others, a tour round the LASWA facilities at Falomo Ikoyi before the NIS team departed.