What you should expect from me is to see the manifestation of God through me – HRH Eze Nicholas Njoku.
Adunni Adetola
Ambassador Nicholas Emenike Njoku was installed Eze Ndi-Igbo of Ejigbo recently.
His Royal Highness Nicholas admonishes other traditional title rulers to fear God, always remember that all  power and kinship belongs to God almighty, it can never be contested .
Eze Nicholas Njoku said this on Friday while fielding questions from journalists after his coronation ceremony at his palace noted that chieftaincy comes with greater responsibility which goes beyond the regalia and other paraphernalia of office, adding that, for any title holder to do well, God must be involved at all times.
Chief Njoku who is also known as the Eze Ohazuru Mee nke mbu n' Ejigbo, Lagos state disclosed that he was not prepared for the enormous responsibility the new title would place on him as a man, noting that he would always look up to God for wisdom and direction.
According to him, "I am happy and at the same time sad. I am sad because it is going to place more responsibility on me, more tasks and bigger challenges I have not seen or dreamt about. I cannot be prepared because I don't know tomorrow but with God, I'm prepared. I believe in God, that he will assist me. But if I tell you that I'm prepared, I'm a liar. I'm not prepared because I don't know what will happen in the next one minute. I'm only asking for God's grace, mercy and to be with me-one with His wisdom, two His protection and three to guide my lips."
Asking him about his future plans, he said, "My plan is to go back to God to tell Him that I have accepted the responsibility He has given to me. You see, in every situation in life, God is saying something, in every situation, God has something to say.
He can use a bad situation to slow you down and to prepare you for the challenges ahead, He can use a bad situation to slow you down to prepare you for the greater thing you are asking for. He can also use a good situation to test you to see if you will misbehave."
"Position comes with greater challenges. When you are uplifted, you are to be wiser and smarter to know if you are to be pulled down from it or not. From all people around me have been saying to me, I believe God is involved. It is now my responsibility to say 'God I have accepted the responsibility, prove to me that you are involved and give me wisdom'. If you work with knowledge, you will end up half way but if you work with wisdom, you are not limited. Knowledge comes from man but wisdom comes from God.
You can be university graduate and yet work under a man who is not educated but has the wisdom of God."
On what to be expected from him, High Chief Njoku who is also an Ambassador of the United Nations said, "What you should expect from me is to see the manifestation  of God through me. God told Saul in 1 Samuel 15 verse I, I have made you King over my people and in 1 Samuel 15 verse 11, He told Saul again I regret making you King over my people.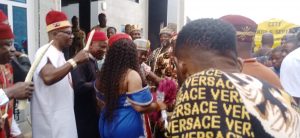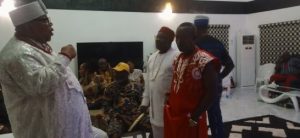 "So, I need to be very careful. God can uplift you and can also bring you down if you misbehave. If you remember King Nebuchadnezzar in the Bible, you should know that kingship is from God. It is only the stupid idiot as I call them that drag kingship. You don't need to drag it, God appoints leaders to lead His people. He wants those who are capable to lead His people. If you use money to buy it, you are leading yourself and you are going to end up in shame and don't forget that the wrath of God is between you and your forth generations.
"So I need to recompose myself, prepare my heart and get closer to God to know when He is talking and to know that my action is His action and that I'm His mouthpiece to bring peace and unity among His people. If I misbehave, the wrath of God will not be upon those who came today to put the cap on my head. So I must be careful.
"I need to go back to God. Kingship is not the clothes you put on, kingship is not the level of people that have come around you, my king came from the East just like many other people came from different places, it is beyond that. In fact, that is just the Genesis. It is beyond the yam and the fowl you eat. It is beyond the clothes you put on.
. It is a responsibility; are you with God, is God with you? Are you going to speak the truth? Are you going to stand for God or are you going to stand for yourself? I have told them before now, I'm a United Nations." Ambassador and I would like to be called Ambassador Nicholas Emenike Njoku, if it pleases you. If you put king, it's ok! And if you don't, there's no problem!
HRH. C.C. Nwokedi, the Eze Ndi Igbo of Ijegun and Ijeododo communities, has advised people in positions of Eze authority to impact lives positively most  especially the underprivileged.
HRH Nwokedi is also well known as Eze Okpoko 1, also popularly called the only Digital Eze.
HRH. Eze C.C Nwokedi, spoke with  Journalists on Friday, 4th of June, 2022, at the coronation ceremony of HRH
Nicholas Emenike Njoku , Eze Ndi Igbo of Ejigbo area of Lagos. He asserted that the importance of life is to help the needy, power, underprivileged, orphans, widows, physically challenged people and humanity.
Eze C.C Nwokedi said "Let us know that this world is not our own. Our fathers and grand fathers have come and gone and now we are here and some day, we will all go like them no matter who you are or your successes, you will go and they will bury you in 6ft no matter the kind of house you have.
"But what we have done in this world will determine where the person will go to. There must be judgment. So use your position, your office to help humanity, help those that need help, those that are sick, assist them to get medical assistance.
He added that, 'if you want your children to amount to something in life, help other people's children and if you want to live long, pray for other people to live long. Help orphans and widows, that is the kind of prayer that God answers."
HRH. Eze C.C Nwokedi, Eze Okpoko 1, the only Digital Eze, was asked if he has political ambition, he said, "No…no…no, I cannot do that, Anybody who wants to make heaven should not go into politics because politics will destroy and kill.
Politics is a very dirty game except you are ready to comply with whatever they ask you to do. But if you want to inherit the kingdom of God, you want to make heaven , my people, leave politics except it is your calling, God wants you to go there because if God wants you to be there, He can pave the way for you.
"I want those born again to come out. If you don't have money, and you want to go into politics, pray to God, He can make a way for you but if they want you to sign and do certain things, don't do because you will die one day and after death, there must be judgment. So, that's what I'm looking at."
Also, when he was asked to described Eze Njoku, he said Eze Njoku is a kind hearted, generous man who has been helping many people within and around his community and charged him not to relent, he added that, "I am happy today witnessing his coronation ceremony. Eze Nicholas Njoku, and I have known for the past seven years and in the last three years, I chose him and gave him award, the award was given to him by the 'Igbo buru Otu', which am the founder. The reason why is that,
he is generous, before you become my friend, I must know you.. "If you are not helpful to people, you cannot be my friend. I have been helpful to widows, I expect my friend to do the same.  So that's why I'm here not because of his coronation actually but because of his kind of person, he is a giver."
In addition, HRH, C.C Nwokedi, however questioned the practice of giving a chieftaincy title to any man who has no roof over his head, nor have three  square meal. He said, "how can you install someone who has no house and no palace a king? If he is a good man, he can form a committee of friends who can help him build a house because there are good men who do not have houses.
"How can you be answering Eze Ndi Igbo of Ejigbo, for instance and you do not have a house in Ejigbo, you don't have a palace in Ejigbo? It's abnormal and not proper.
Ezeship comes up with responsibilities on you such that any Igbo man in that area where you live that has a challenge and run to you, you should be able to assist him or her. That is what Kingship is all about, it's not for fun. You must be able to help the poor.  Like the church now, they do not care what the poor man is passing through.
"When a poor man dies, they will tell you there's no time to bury him or her but when any of the parent of a rich man dies, you will see 50 bishops and over 100 fathers because they will gain something. It is annoying, I don't like it. I give assistance to the poor and needy, I'm not taking money from the government.
"I give people money to start business, it is my sweat. You can come to Ijegun and Ijedodo to ask people what I have been doing. I will not eat food with my children and discover that the next person around has nothing to eat, I would rather not eat that food." So, I advised every Ezes to be generous and be compassionate.