The Zonal Coordinator, ACG Kunle Osisanya and his entourage paid a familiarisation visit to the Nigeria Navy Western Naval.
Adunni Adetola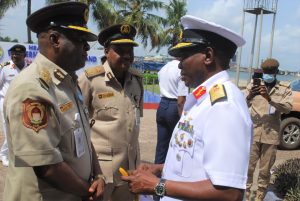 The Zonal Coordinator of the Nigeria Immigration Service, Zone 'A', Ikeja-Lagos, ACG Kunle Osisanya fdc, paid a familiarisation visit  to the Nigeria Navy Western Naval Command, Apapa Lagos on Tuesday, 5th of April, 2022.
The Zonal Coordinator and his entourage were received by the Flag Officer Commanding (FOC), Rear Admiral YB Wambai fdc, along with his management team, in a statement signed by the Zonal PRO, ACI RA Ojo, psc.
The ACG zone 'A' reiterated the duties of the NIS within the Zone with emphasis on management of border security while calling for synergy in the operations of both services within the territorial waterways in zone 'A'.
Attention has been drawn to the rising activities of migrants from Falomo and Liverpool jetty areas, where passengers board speed boats claiming to be heading for Badagry but possibly end up at port-Novo in Benin Republic. Similarly, passengers embark from Port-Novo through the riverine routes to Lagos .
The Zonal Coordinator mentioned that despite the presence of an NIS designated Marine Border Post at Akere (Ogun State) and called for support from the Western Naval Command to secure the Nigerian territorial waters within Zone 'A for enhanced national security.
Responding to the ACG, the Flag Officer Commanding, Rear Admiral Y.B Wambai fdc, expressed delight at the visit and promised the NIS of his Command's readiness to support the NIS within the operational area and not to hesitate to engage the cooperation of naval officers in the area.
He reiterated that the Western Naval Command has a very good working relationship with the other Security agencies including the Nigeria Customs Service, NDLEA, Police e.t.c.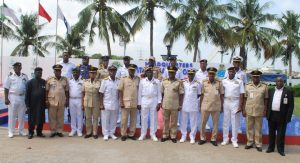 The event was rounded off with the exchange of gifts and group photographs.
The ACG entourage were,
CIS ES Fagbamigbe, pcc, Idiroko Boarder Command,
CIS AS Garo, pcc, Lagos Seaport and Marine Command,
DCI NJ Dashe, pcc+, Investigation and Compliance, Zone 'A',
DCI FM Otumara, pcc, Human Resource Management,
DCI II Ahmed, Legal Unit,
ACI RA Ojo, psc, Zonal PRO,
ACI A Abubakar, Special Duties,
DSI AA Sheyindemi, Protocol.
Also, the FOC'S Principal staff officers were,
Rear Admiral HUF Kaoje, Chief Staff Officer,
Commadore EB Duke, Command Admin Officer,
Commadore GJ Kachim, Command Transformation Officer,
Commadore BK Effiong, Command Operational Officer,
Commander DK Malum, Staff Officer Grade I Operations,
Commander OJ Jonah, Command Logistics Officer,
Commader AU Tijani, Command Intelligence Officer,
Commander TS Fagbote, Command Account and Budget Officer,
Commander V Bako, Command Provost Marshall,
Second Lieutenant DF Ekwe, Acting Command Information Officer.