We don't have the right to condemn any one in correctional centre – DCP Lizzie Ekpendu.
Adunni Adetola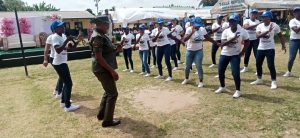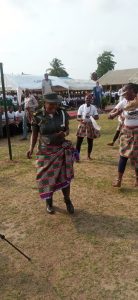 The great woman in charge of the Female Correctional Centre, DCP Ekpendu Lizzie is a woman of great value, transfomer, enviable character,  the woman that keeps the affairs of female Correctional Centre rolling,  hosted Nigeria's  first and only beauty pageant focused on corrections, on the 9th of March 2022.
The event was held at the Female Correctional Facilities, Kirikiri Lagos was tagged " THE WONDER OF WOMAN," celebrating the power of woman, empower woman, empower the world, train the woman, train the community, train the world.
A full packed special Attractions in two categories.
The Inmate Beauty Pageant, category
Staff Beauty Pageant, category.
Female queens showcase talents.
Special performance by female corrections heavenly choirs.
Presentation of certificates by the joy bringer to the graduants.
Awards and gifts presented to the female queens.
Some special guests present at the occasion were the new ACG, Zone A, Uche Nwobi, the Controller of Correctional service, Lagos state, Mr Francis Adebisi, Chief  Abimbola Aboderin amongst other important guests.
 In his brief remark, Controller, Lagos state command, Adebisi described DCP Epkendu as an astute administrator, the first of its kind and commended her for the initiative.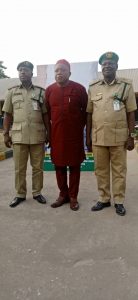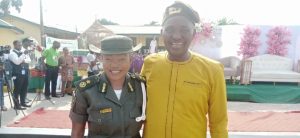 In an interview with journalists, DCP Ekpendu Lizzie stated, "The main reason why I decided to put up this show is to change people's narrative towards inmates across all correctional centers in Nigeria."
"This event was a first in the history of all correctional centers across Nigeria and we are hoping it becomes an annual thing. DCP Ekpendu Lizzie always addresses all inmates as her daughters, said the inmates have been her strength since she has been in charge of the Female Correctional Centre.
According to her "I am like a mother to them," My duty is to love and tolerate all the attitudes the inmates exhibit. An average correctional officer must exhibit the attitude of a mother, doctor, nurse, psychologist, midwife, pastor, imam, and the whole package, to mention but a few.
When God gave me this idea, I was so humbled and I informed my commandant, and he gave me the go ahead.
With God on our side, we practiced for three (3) months in order to actualize the dream. The idea of this show is to let my daughters (inmates) feel very confident in themselves and for them to know that they are beautiful and not to be condemned."
"There is nothing in this world. Every single person on earth is sound and agile, and when we remember that we are sound, we will be conscious that at the end of everything is just 6 ft down. When we are born, the person we don't know bathes us, and when we die, a total stranger will also give us a bath.
It is time for my daughter, ( Inmate), to show the world that behind the walls of correction centers (prisons) there is beauty and wife material. They are to let the world know that there is a beauty behind the bar."
"It's time to bring back the confidence that being behind the cell in any correctional center across the country doesn't matter as long as they have God and with change, they could be the best thing ever, she added.
When I started it, most of them did not take it serious but I made them to realise that being a wardress does not mean you are condemned. Are you a nun? You are not a nun. I'm proud of myself. You should be proud of yourself because life is too short. When my daughters and my staff come out, see beyond the cart walk."
DCP Ekpendu further said, "Everything is centred around God and who is God, God is love. If I say I love God and cannot love those around me, what then am I saying, that I love the one I can't see more than those I can see?
"Evangelist Chris Chukwuka will always tell you, look, I committed the sin not because I wanted to or I planned to but I found myself in this situation but God found me worthy and because God knew that if He gives me a second chance, I will impact in the lives of people and that through Him, they can be saved.
Inmate Category showcased 11 contestants representing the different cells in the female correctional centers,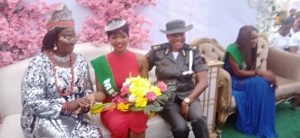 The 21 year-old who is been accused of killing Super TV CEO, Michael Ataga, has been crowned Miss Cell 2022
She won the crown at a beauty pageant that was held in Kirikiri Correctional facility to mark the 2022 International Women's Day.
It was recalled chidinma is a 300 level student of the University of Lagos (UNILAG)  is still tried in court for alleged murder of Ataga, who was stabbed to death and left in the pool of blood inside a hotel ln Lagos June 15, 2021

L-R: DCP Lizzie Ekpendu, controller NCS, Lagos command, Francis Adebisi, King Wadada, 2nd runner up in the inmates category, ACG in charge of Lagos and Ogun, Uche Nwobi and others.
MissCorrectional 2022 was presented a Hisense 32KG Chest Freezer.
First (1st) Runner-up was  Miss Aso Rock with a consolation price. Kester Refrigerator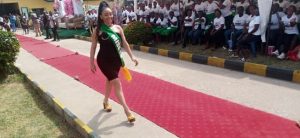 An inmate who is a foreigner came 2nd runner-up in the competition.
Other female inmates who competed in the pageant were all dressed in dinner and mini  gowns representing their prison wards. All clothes and fabrics for beauty pageant were all hand made by the inmates.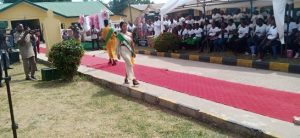 9
The second activity was the Correctional staff Beauty pageant where 12 staffs contested.
Mrs. Helen Torty, who represented the store department, won the Officers' Beauty Pageant category.
Mrs. Ann Enny Oduh, from the Catering Section, came second.
And Mrs. Esther Azu, represented the Psychology Department, came third.
In a brief chat with the first runner-up, she expressed gratitude to DCP Lizzie Ekpendu for instigating the programme.
She stated that" I'm so excited because this has never happened in a female correctional centre before. I give God the glory and I thank our mummy, DCP Lizzie Ekpendu for putting up this programme, I thank God that I'm a part of it and that I came second. And to my other colleagues who took part in the contest, they are all beautiful and I congratulate Mama Lizzie on their behalf for putting up this programme".
Commenting on the emergence of Chidinma as Miss Cell, Oladokun said, "I can't comment on a particular winner because there were many winners."because there were many winners." Cell A may decide to sing, Cell B may decide to do a beauty pageant, while Cell C may decide to present a play. "Maybe her own cell decided to present a pageant show and she won as a representative there. But as I said, there are other winners
Aside the beauty pageant, there are Special performances by female corrections heavenly choirs, special guest artist, Wadada, cultural dancers, drummers, singers and the kids also show case their talents.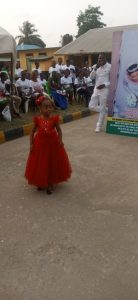 Also, there was presentation of certificates by the joy bringer to the graduants.