PCRC Enjoins Communities To Say Something When They See Something …….Security Is Everybody's Responsibility. 
Adunni Adetola
PCRC Enjoins Communities To Say Something When They See Something
…….Security Is Everybody's Responsibility.
The Chairman of the Police Community Relations Committee in Owode Onirin Police Division, Hon. Adebisi Adeniyi has enjoined members of the communities particularly Ajugunle, Ojomo, Koi-Koi , Owode and environ to always be proactive and promptly volunteer information to the police to enable them nip crime in the bud.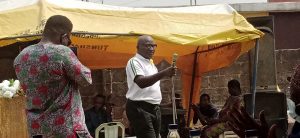 At an interactive session between members of these communities and the DPO of Owode Onirin Police Division, SP Charles Sawyer recently, Hon. Adeniyi commended these communities for protecting the station during the #EndSars disturbances in Lagos resulting in the burning of some police facilities, adding that for the police to be effective and efficient, members of the public must volunteer credible information because security is the business of every member of the society.
He commended the DPO, adding that his contributions and cooperation since assuming office on the 1st of February, 2021has been phenomenal.
Other members of the communities who spoke during the occasion described SP Sawyer as a wonderful police officer who has brought finesse into policing and charged him to keep it up.
In his remark, the DPO of Owode Onirin Police Division who described himself as servant DPO noted that the Division and the communities enjoy cordial relationship which is beneficial to both parties and charged them not to relent.
His word, "From the 1st of February, 2021 when I assumed duty as the DPO here has been challenging and revealing.
My interaction with the people around here has revealed that the police has a good relationship with the people here. One of the evidence of that is the fact that you people are here with us today. If you were not here, it means that we have a problem in our relationship. So we build a better relationship with members of the community.
"Secondly, the police station structure was not as good as it is now. That is not to say that it was bad. But we discovered that we need to make our environment better because when the environment is better, your output in terms of policing will be higher.
That is why we frowned at communities that burn Police stations because when you burn police station, you are not burning the DPO's property, you are burning community's property.
First of all, thank you for safeguarding our station during the problems of the #EndSars. For those who know the station before the 1st of February,2021, they can attest to the fact that the station is looking better now.
If nothing, we have succeeded in building an observation post for us to have a vantage position in terms of surveillance or attack.
"As a DPO, I feel motivated and better when I'm criticised, it fires me to do better. I do not want to talk about our achievements in the period under review but I just want to mention a few things. In the last 11 months, as a DPO, I have spearheaded the raiding of criminal hideouts and from our records, we arrested a total of 62 persons.
These persons were found culpable in terms of being in possession of what will make the police come after you for questioning.
"As parents, what you will take home is that out of the 62 persons, 90 % of them were found with drugs. As a station, we have discovered that the most prevalent crime here is drug abuse.
Those 62 persons I mentioned were found with drugs. 20-30 years ago, when you say somebody is abusing drugs, you believe that the person must be wealthy enough to afford it but now with as little as N100.00 you can buy what they call Arizona and the rest of them.
"If after the eating, drinking and making fun and you do not take anything home, take the fact that drug abuse is prevalent in this environment. As parents, you will do more to monitor your children and do not come to the station to plead with the DPO when we arrest your child because when you do, you are in other words encouraging them."
SP Sawyer further said as police officers, there is need to create opportunity for happiness for members of the police who always sacrifice their time and energy to ensure the security of lives and property of the public.
"As police officers, we just want to emphasize the fact that we are also entitled to be happy. We do a job that has no formula, we do a job where we are on the street every day for persons like me, we sacrifice our family time to be here and when you get home, you still have your individual family problems waiting for you to solve.
That is what we call sacrifice. But in all of these, we want to let you and the community to know that as police officers, we deserve to be happy. We are taking a clue from the George Floyd issue in America where they said "Blacks lives Matters."
In this case we are saying that the happiness of members of the police matters. I discovered that when we are happy, our productivity in terms of policing is higher.
"I want to sincerely thank you for giving me the opportunity to serve you in the last 11months and now as police officers, our collective resolution is that to the best of our ability and resources, we will secure the environment the best we can, "he stated.
The highlight of the occasion was the presentation of awards to six officers from the Division for their outstanding performance.