BADAGRY HOSTS ONE OF THEIR OWN AS GOMEZ GOES ON A COURTESY VISIT.
Adunni Adetola
Prince Adewale Gomez the gubernatorial aspirant of the PEOPLE'S DEMOCRATIC PARTY in Lagos state, today led his G4G (Gomez for Governor movement) executive team to pay a courtesy visit on the National Deputy Secretary of the PEOPLE'S DEMOCRATIC PARTY, hon Sentonji Koshoedo at his badagry residence.
The visit by the Adaba of Lagos as he his fondly called by his admirers coincided with a remarkable occasion in the koshoedo family.
Prince Adewale Gomez and his team were warmly received by the apex leaders of the PEOPLE'S DEMOCRATIC PARTY in Badagry.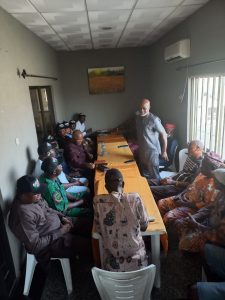 It was a fun filled atmosphere as they expressed gratitude at the visit of the G4G team, as it was home coming for the great grandson of the late Oba C.D Akran of Badagry.
G4G 100%.. 100% God with Gomez..100%+++.