Chief Njoku and wife Celebrate 50th, 40th Birthday, And 20th Marriage Anniversary in Grandeur .
Adunni Adetola

The family of Chief and Lolo Nicholas Njoku, on Sunday, the 19th December, 2021 will continue  to live to remember the celebration experience which made an ineffaceable impression on their minds.
At their residence, N0 33 Jubril Olabisi Street, Idimu Rd, welcomed family members, friends, business associates and well-wishers who gathered to share in their significant, innumerable testimonies of the goodness of the Lord and to also celebrate the 50th birthday of Chief Nicholas Njoku, his wife, Lolo (Mrs.) Chibuzo Njoku who also attained 40 and their 20th marriage anniversary.
The event commenced with a thanksgiving service at the St. Peter and Paul Catholic Church, Oke-Afa, NNPC, Idimu Road. Later on guests moved to his residence for the great celebration.
Rev. Fr. Ogbonna in his prayer, committed the Njokus into God's hands for more blessings, divine guidance, protection, marriage sustenance and many more birthdays.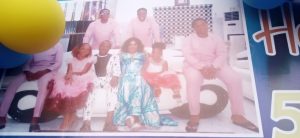 The atmosphere within the residence and the calibre of people present leaves no one in doubt that the celebrant, Chief Njoku indeed is a humble man who is well loved by his people.
His friendship cuts across ethnicity, race or religion. He holds humanity tenaciously to his heart.
An international businessman, Chief Nicholas Njoku, has passion for the hospitality industry.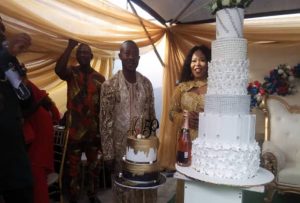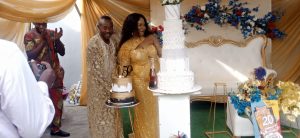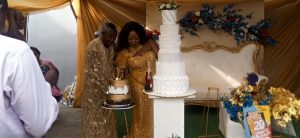 Chief Nicholas and his wife about to cut the anniversary cake.
THE TORCH NEWS MEDIA, Covered the event. ln an interview with chief Nicholas Njoku, he explained that the three events were not coincidental.
In his words, "My 50th birthday, my wife's 40th birthday and our 20th marriage anniversary was not a coincidence because I have not celebrated birthday since I was born both my wife because we believe there is time for everything. I think this is the right time and that is why I said it was not a coincidence.
"For the marriage anniversary, I believe we have been building and in marriage, you can't give the result in six months, one year, six years and so on until you are mature. We are now matured.

Chief Nicholas Njoku fielding questions from the press, also, he was presented an award by an igbo group.
For us to live together for two decades happily, it means we can live together forever and that is why we are celebrating. My experience in the last twenty years is not a child's play.
"It is not a smooth road but for you both to stay together, the man has a role to play just as the woman also has a role to play. Both of you must make sacrifices. Like me, before I married my wife, I used to travel a lot outside countries. She entered my house December 6th, 2001 and I assured her that I will not stay beyond 30days in abroad henceforth. Since then, I have traveled to over 15-20 countries and I have never spent more than 30days.
"I kept to my promise because I need to learn her and also allow her to study me and most importantly, I need to learn my children and train them my own way and they will learn me too.
"Since I married my wife 20years ago, I have not traveled outside the country and spent more than 30days. This is my first son and the other one is my last child. Since I had them, I decided to be with them. They all know and understand me. I run hotel business and most of my friends who run the same business, sleep in the hotel, some go home by midnight, others by 1am but I can't stay outside by 10pm.
"My children can testify to that. Since I started the business, I have slept in my hotel for seven times. Four times with my wife and my little children and the remaining three times when they were not in Lagos and that was in 2014. So from 2014 to date I have not except when I'm not in Lagos."
Reminiscing on how the journey began and what attracted him to her, he said, "My wife is an obedient woman who has accepted to go by my rules and regulations. She is a prayerful woman. As a man, the bible makes me to understand that the head of man is the head Christ and Christ is the chief husband of every home. So, I'm Christ representative, I'm always a man and she having that fear of God accepted to be under me as a wife, that's why we have come this far."
Described by those close to him as a philanthropist and a humanitarian, the excited Chief Njoku said, "Being a philanthropist, I do it for God because my bible says I should love my neighbour as myself, it never said love Christians, Muslims, Igbos or Yorubas. So that is what always inspires me to see any person around that is in need as if God is there to do it Himself and I'm doing it by his command. He said we should do it and that is what gives me joy."
Speaking further about the increasing rate of divorce in marriages, he said, "My advice to young couples is to understand that there is a prize to pay, there is a sacrifice to make. You must be a man to do that which is right. This my son is 19 years now, you must lay a strong foundation for the children. Nobody has come to look for me and I ask my children to tell the person that I'm not around or that I'm sleeping.
"If you do this, you are laying a bad foundation and it will come back to you. So as a man and head of the family, you must be upright. It is not that you are going to be that soft, if you are soft, you will die early. You must discipline the children when need be and make them understand you and you understand them as well.
"As I said, it is not every woman that can obey a man. I'm a man to the core and you must obey me. That's how God made it to be. The world that is turning upside now is because women want to rule over men, to dominate the man. Today, they say women should come into politics, for what? How do we train our children?
"Women are to train the children while the man goes out to look for food for the family. If I'm to decide a woman should only work in government office after her last child attains the age of 15 years because it is mothers that train children but today, it is teachers that train children.
"A woman will hand over a child of six months to a crèche to look after in the name of going to work, that is something I find difficult to understand. It is madness. It is difficult to control one child when he is crying let alone when they are six or seven under the care of one person. If anything happens to such a child, you the mother is responsible and the blood is on your head."
In a related development, his wife Lolo Chibuzo  Njoku described her husband as a responsible man who does not play with his family.
"I love my husband for many reasons one of which is the fact that he does not play with his family. Even when we are having misunderstanding, he is ready to stand and defend me before any intruder. Since I got married to him, he has been taking proper care of his family. His family comes first and I give him 1000%. He is also a Godly man, he fears God, " she added.
Sharing her experience in the 20 years journey of her marriage, Lolo Chibuzo Njoku said, "We have been married for 20years now. It has not been easy, as they say marriage is not a bed of roses but once you are determined to stay with prayer, patience and love, you can go a long way.
"I was about 20 years when I married my husband, in fact, I celebrated my first birthday, that was my 20th birth day in his house. I did not actually know that it was going to end in marriage because we were just friends and I was always giving him encouragement, he too was giving me encouragement because then I was not determined to marry but as it pleased God that it happened like that, we give him all the glory.
"By the grace of God, we have been pushing on. On many occasions I had regretted marrying him but with love, I have been able to overcome because it has not been easy. I cannot begin to lie to you guys that it has been rosy in the past twenty years. At some point, I was wondering why I jumped into marriage, I did not even enjoy my life but with patience, prayer and love, I was able to stay.
"Today, we have people who go into marriage and within six months, they are out, some even within one week, they are divorcing but I decided in my heart that no matter what, I will remain because once you start like that, you expose your children to unnecessary suffering. You have to consider the children you brought into the world. No matter the ups, you have to keep pressing and believing God that one day, you will get there."
Also speaking about the celebrant, his younger brother, Dr. John Reginald Njoku, described him as a man of integrity.
His words, "He is a man of integrity. I have been living with him right from Port Harcourt before he relocated to Lagos and I have learned a lot from him. He is a man of great wisdom and anybody who comes across him will always want to come around him again. He is also a philanthropist. He has been doing his little best to help humanity.
"About his 20th marriage anniversary, I once told him that I would not marry him if I were a woman because of his rigidity. I thank God for his wife. She loves and respects him so much. He is also a traditionalist and relates with Igbo groups well.
"Our community brought him and gave him the title of Eziokwu bu Ndu 1(Truth is life) because by right, we came from a royal family and not supposed to have chiefs but the community said no and chose him because of the way he lives his life. They insisted he would be given the chieftaincy title because he speaks the truth especially to the youths. He is the one that can organise the youth even till today. If any riot is going on in the village now, he can call on the phone and douse it from here. Even some other Igbo groups have been calling him for other titles.
"Every 25th December is his day in my village. He buys at least 50 to 70 bags of rice, kills cows and gathers all the widows in his house and shares the items to them. Some others will approach him for a loan and present parcel of land as collateral but he will solve their problems without collecting their lands. I know during the covid-19 lockdown last year, he did a lot to assist people in Ejigbo, Lagos and even where his business is located, people can testify to that. I know in his scholarship scheme, he has at least 15-20 students under his care."
A very close friend of Chief Njoku, Mr.Anthony Mmadu, CEO of TonyNanko Ventures Nig. Ltd. In his contribution, he described him as a very good man and a lover of humanity.
Mr. Mmadu who is also known as the "Olowu" in Mbaise land, said, "Chief is my family friend whom I have known now for close to ten years. His wife and mine first connected before Chief and I came together. Chief is a very good man and because of that we had to cancel other activities to be here to celebrate with him. "What makes Chief a good man is the fact that if you have any issue, he will be there for you, putting his best no matter the circumstance until the issue is resolved. They are celebrating 20years marriage anniversary today, my prayer for them is that God will keep them together to celebrate 30 years, 40 years and many more years in good health, happiness and abundance of wealth.
"The thing is, if you marry a good wife, every other thing is added to you. Chief has a woman with the heart of gold and as such, they are not going to have any issue as such.
"We went to the church in the morning and then from the church to the house and we will be here until every other person leaves before we take our leave because we are part of the planning committee of this event."
The highlight of the celebration was cutting of the anniversary cake by the couple while their guests cheered them up.
The multiple celebration had in attendant business tycoons Igbo communities in Lagos and other well-wishers of the Njoku family.
A cross section of the other guests listening to the life performance, dancing and spraying the celebrants money.