Government should diversify the economy, adopt technology and stop depending on oil as the major source of revenue as oil is becoming obsolete.– Chief Abimbola Aboderin.
Adunni Adetola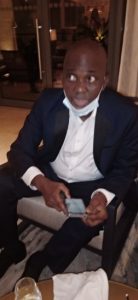 Otunba Abimbola Aboderin is a well renowned business tycoon, an eminent respected  philanthropist has expressed his concern over the nation devastating state and leadership failure adding that people take Nigeria as a joke and do not show patriotism.
Otunba stated this in an interview with the journalists who visited him on the occasion of his 69th birthday in Lagos.
He bewailed the country has not been able to utilize the immense human and material resources God has blessed Nigeria.
He called on the Government to diversify the economy, adopt technology and stop depending on oil as the major source of revenue as oil is getting obsolete.
Chief was asked if he was satisfied with the level of development in Nigeria at 61, his  response was "Not really because of the level of corruption. People take Nigeria as a joke.
Nigeria is a great nation blessed with enormous human and material resources. But people take a lot of money from Nigeria for personal pleasure, some even buy private jet and I ask, what are you buying private jet for?
"We are just wasting the resources, we are not producing anything and just depending on oil. Oil is facing out and other countries are going into technology and most Nigerians in Diaspora are doing great in technology.
Let's get them together. Some steal the money and take it abroad, my prayer is that they should bring these money back home:.
"I once lived in California, USA, the most beautiful place in the world and when I was in school, I lived in one of the most beautiful hotels in England but Nigeria is my own.
I cannot be talking about other people's countries when my own is in a mess. If you are the only person that has money and the rest of the people are poor, nobody will respect you.
So what I'm saying is that we should diversify our economy and increase our revenue."
Chief Aboderin also added that we should go into agriculture, solid minerals, technology and we must do it urgently. People are fighting over who becomes the president, which is not the paramount now.
"Let us pray that God puts the right person there for us, who will develop the country and put the right things in place.
Nigeria is a beautiful place. They should stop stealing the resources that can be used to make the country great. I have been on the road, I go to the village, I eat yam and I love it."
Asking him on the way out for Nigeria, chief Aboderin said, "First, we have to pray to our creator. China, Japan, Nigeria, he is the creator. He gave different countries different resources to tap into and use for their development. We have to beg God for forgiveness and then we must be proud of Nigeria and work hard to make it work.
"You cannot be proud of another man's country. I spent ten years of my life trying to help build up the Nigerian military. If you see Gen. Martin Agwai, former chief of defence staff, ask him what I have done for the Nigerian military. We must love Nigeria and do things right, if you believe you are the only one that knows it all, you are a fool."
Chief Abimbola Aboderin attributed the secret of his success to God. "Jesus is the secret. Everything I have today, Jesus is the secret. I give God all the glory. I'm a Catholic. He created all of us both visible and invisible. Jesus is the saviour. God has been so good to me and I'm very grateful," he stated.
The birthday celebrant said, "I feel victorious, I feel happy and I'm very grateful to God for keeping me alive. I remember a lot of my friends who have passed. I remember Chief MKO Abiola who died in his 50s. Even in my family; my father died in his 60s or so, my uncle Olu, died at the age of 49. So for me to be alive today, I'm very grateful to God."
Asking him what are  the qualities of a good and responsible leader?, he said a good leader must be God-fearing "because the knowledge of God is the beginning of wisdom, you must love your neighbour as yourself."
He further stated that a good leader must not always think about himself and must love his neighbours as God enjoins mankind to always do.
His wife, Mrs. Folusho Abike Aboderin described her husband as a loving, caring and responsible man who loves his country with passion and wished him sound health and long life to see his great grand children.
She said, "Already, he has everything he wants from God. He is close to God, I wish he gets closer to God. That I said I wish him closer to God does not mean he is not close to God. He is a prayerful man. He is a good husband and a good father.
He is a good friend and an honest man who loves his country. He wishes to do a lot for his country if he is in that position but because evil people and satan, do not want good things to happen to people.
"This man you are seeing here has been through a lot but he did not waiver in his faith and trust in God and that is why God is with him. I'm sure he will try his utmost best to put things right, if he is given a chance.
He's not a perfect man but I know he will try his best,the bad and evil people don't want us to be free, they want us to remain in bondage, eternal bondage.