NIS Zone A–ACG , Talabi Assures Prospective Passport Applicant Of Prompt, Efficient Service, Cautions Applicants Against Patronizing Touts ….Confirms The Presence Of Taskforce To Clear Backlog of Impending Applications ……Says There's Enough Passport Booklet In Ikoyi Office
Adunni Adetola
NIS Zone A–ACG , Talabi Assures Prospective Passport Applicant Of Prompt, Efficient Service, Cautions Applicants Against Patronizing Touts
….Confirms The Presence Of Taskforce To Clear Backlog of Impending Applications
……Says There's Enough Passport Booklet In Ikoyi Office
The acting Comptroller-General of the Nigeria Immigration Service, Mr Idris Issa Jere, The Assistant Comptroller General, (ACG) of the Nigerian Immigration Service (NIS) in charge of Zone A, Oluremi Talabi has assured prospective Nigerian passport applicants of the readiness of the zone to serve them promptly and efficiently.
Speaking to newsmen in Lagos last Friday, 24th of September 2021. Talabi reiterated the commitment of the Hon. Minister of Interior, Ogbeni Rauf Aregbesola and the acting Comptroller-General of the Nigeria Immigration Service, Mr Idris Isah Jere, in ensuring that prospective applicants do not suffer any form of unnecessary delay in passport issuance.

She disclosed that the special passport leading delegate team from Abuja came to Lagos with the mandate to clear all backlog of impending applications headed by Mr Idris Isah Jere, was already in Lagos, assuring that very soon, all backlogs would be cleared.
ACG Talabi cautioned intending passport applicants not to patronize touts as such applicants are not usually processed while the touts divert the money into personal use and feed the applicants with lies. She urged all the applicants to apply for passport through its online servicom platform.
While assuring the general public of the availability of passport booklets, she called on intending applicants to always ensure they arrange their names properly as it appears in the National Identity Number, NIN and with proper phone numbers for easy contact when the need arise.
This may not be unconnected with a recent report to the effect that Nigerian Immigration Service's Ikoyi Passport Office was currently facing a crisis over delayed processing of passports for applicants.
In the report, an officer, who spoke on the condition of anonymity, disclosed that "things are obviously not right in this place."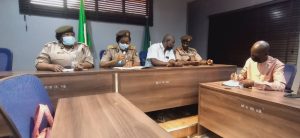 But the ACG while speaking with newsmen assured the general public that the taskforce would clear all backlogs.
Her word, "As you already know, the traffic on passport applicants in Ikoyi, FESTAC and Alausa offices are unimaginable. We receive as much as 500 applications coming in every day to request for international passport. For this reason, our attention will be mostly on Ikoyi passport office because that is where the number is, that is where issues arises some times, that is where some times, people don't understand, they take out one item and blow it out of proportion.
"I have a duty to let you know what we are doing, what innovation is brought into the system, I have a duty to let you know as pressmen who have the duty to project this office to the outside world. It's a social responsibility to the populace. We have a taskforce on ground from our office in Abuja, the taskforce is here at the instance of the acting Comptroller General of NIS, Mr Idris Issa Jere, they are here to clear backlog of impending applications.
"Not too long ago, you will recall that there was a special intervention, that was in May, 2021 to clear backlog of passport applications.
However, it's not a one off attempt but the acting CG deemed it fit to intervene and make sure that applicants do not suffer unnecessary delay and that is why, we now have a taskforce in place, headed by comptroller Lima Abubakar from Abuja.
"They have a mandate to clear whatever backlog. You may want to ask me why backlog again. You may also want to know that the acting CG has infused more than 20,000 passport booklets into the system and he will continue to do so, it's a continuous process because every day, we get request for passport application. I implore every prospective passport applicant to be patient and alloy the system to work as there is nowhere in the world that you apply for a passport and get it same day.
"There is a policy already put in place by the Hon. Minister of Interior, Ogbeni Rauf Aregbesola on passport issuance which is set at three weeks for re-issue/renewal and six weeks for fresh application.
So I enjoin you to kindly project this to the general public, let them know the time frame for waiting and that within this period, their passports will be produced and that this is done on first come, first serve basis as much as possible."
She called on applicants who received text messages or direct phone calls to come and pick their produced passports, noting that there are over 20,000 produced passports in their office
Her words, "I also urge all applicants who received text messages or direct phone calls from our office to come forward to pick their passports as we have about 16,211 produced yet not collecte passports at Ikoyi passport office alone despite text messages and telephone calls to applicants.
At Alausa passport office, there are 8,320 produced passports yet to be collected. At FESTAC passport office, there are 1,500 produced passport booklets yet to be collected.
"All these figures put together are about 25,000 passports yet to be collected. You will agree with me that this is a huge number and when applicants apply, they should not just drop their numbers, they should come around to collect their passports
We will continue to do our best to deliver on the ministerial mandate.
"Three weeks for renewal and six weeks for fresh application, not minding the challenges of epileptic power supply we face day in, day out, and the issues we have with rectification of National Identity Number.
This is another area that is so germane in the production of the e-passport as we have it now because already there is a column where we have to indicate each applicant's NIN. Without the NIN, production of the passport will not be complete.
"And how did we get here because before now, it was not so, there was not the issue of NIN, it was not there. But you move with time especially security document, it has to be dynamic because even the criminals are not sitting back, every day, they device new measures and as they device new measures, we have to go ahead of them and that is what brought the adding of the NIN into the e-passport as a means of additional security checks.
"The e-passport as we have it now has a myriad of security features inputted in it. So gone at the days when people steal other people's passports because the security features embedded in the e-passport makes it highly difficult and unattractive. It makes it difficult Fraudsters to penetrate, remember years ago, people will go and keep their passports in the bank especially if it has visas.
"But now, there is nothing like that because the security features makes it difficult for another person to use another person's passport.
The e passport, 32 Page Standard 5 years, #25,000 0R $130 ( For Oversea Application)
64 Page 5yearStandard Passport, #35,000 OR $150 ( For oversea Application)
32 Page 5year Official Passport
#15,000
The advantages of the New Passport Reforms are Ten years vadility, enhanced and self-tracking of application, enhanced security features.
However, I want to highlight the problem we have with the National Identity Number of passport applicants. Most of the times people will go out there and say they have applied for passport but that the NIS has not produced.
"If you don't have the NIN, there is no way the NIS will produce. Again, help us to tell our citizens that name arrangement in the national passport and NIN has to tally otherwise the system will not accept it. If I'm Oluremi Ajoke Talabi in the NIN, I should not be Talabi Oluremi Ajoke in the passport. This is not peculiar to Nigeria.
The ACG also advised the applicants to apply for passport at their nearest passport offices instead of going that far to get their passport.. She added ' If you are living in Okokomaiko you dont need to come to Ikoyi passport office to apply, go to Festac passport office and get it, Also if you are living in Ikorodu, don't come to Ikoyi passport office, go to Alausa passport office to apply for your passport.
"The name arrangement is key, data supplied to NIN should be the same data supplied to Immigration, and applicants should try to supply the correct phone numbers. Most times, when there is an issue and we try to contact them, their numbers are not reachable.
How does this happen, it happens to people who patronize touts, people who have not gone to our website to download the forms themselves ditto with collection of produced passports."
She lamented that the passport office in Ikoyi has been running on generators for months now and would continue to do so to ensure that NIS service to the public is not disrupted.
"So I urge prospective applicants to come to our office and not patronize touts who will not process such application but will continue to tell them lies that immigration does not have booklets. We will continue to do all we can to serve the public efficiently and promptly," she assured.