COLLABORATION: THE SOCIETY FOR PEACE STUDIES AND PRACTICE (SPSP) PAID A COURTESY VISIT TO THE NSCDC OGUN STATE COMMANDANT.
Adunni Adetola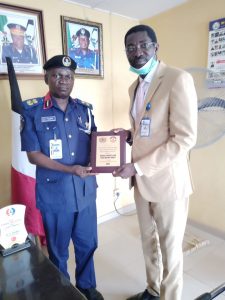 The State Commandant, Nigeria Security and Civil Defence Corps, Ogun State Command Headquarters, Abeokuta, Mr. Kolawole Taiwo, received the executive members of the *Society for Peace of Practice (SPSP)  led by Olasunkanmi Osundina (PhD), in his office on Monday, September 20, 2021 at the early hours of the day.
The Society deems it fit to visit the State Commandant due to the upcoming *International Day of Peace* which is an annual celebration and collaboration between the Society and the Corps every September 21 and considering the key importance of peace in the mandate of the Corps and also its core relevance at this critical time in the country particularly at resolving our differences as a people.
In a statement signed by the State spokesman, Dyke Ogbonnaya said the two-day event will be commencing today with visitation to schools and media engagements while a peace walk across the Abeokuta metropolis in conjunction with the officers and men of the Nigeria Security and Civil Defence Corps, Ogun State Command takes place the following day alongside lectures.
Meanwhile, on Tuesday, September 21, 2021, the Guest Speaker, Dr Segun Ogunyanwo would be discussing this year's theme: *"Recovering for an Equitable and Sustainable World"* through the chosen topic titled: *"Exploring our Potentials Peacefully in the Face of Security Challenges in Nigeria"* at the Civil Defence College of Security Management, Abeokuta.
While welcoming the team to his office, the State Commandant, reiterated the importance of peace to every home, association and the country at large. He went further to say that nothing can be fully attainable without some grains of peace in it.
Dr Osundina thanked the Commandant for his kind gesture and magnanimity even within the short notice of the visit.
Meanwhile, the Commandant granted the team's request to make the programme a great success, also promised to always extend hands of fellowship to the society whenever the need arises.