THE COMMISSIONER OF POLICE, DELTA STATE COMMAND, CP ARI MOHAMMED ALI, FCIA, psc, PRESENTS THE ACHIEVEMENTS MADE BY DELTA STATE COMMAND.
Adunni Adetola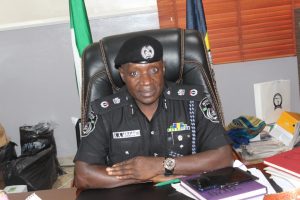 Ladies and Gentlemen of the Press,
I welcome you to this briefing. The Command under my watch has been working 24/7 with a view to seeing that the state is safe for all.
In light of the menace caused by cultists in Sapele and Ogwashi-uku axis, I deployed tactical teams to the affected areas and other part of the state with a view to restoring peace in the affected areas. Some of the achievements from the operations will be highlighted in today's briefing and with the successes recorded peace has been restored as suspects arrested have been the root cause of the menace in these areas.
The Command will continue to sustain this tempo and ensure that cultists and other miscreants will not see the state as a safe haven.
1.ARREST OF SUSPECTED KIDNAPPERS/ARMED ROOBERS/CULTIST/RECOVERY OF TWO AK47 RIFLE /TWO PUMP ACTION GUNS TWO LOCALLY MADE SHORT GUNS AND FORTY-SEVEN ROUNDS OF 7.62MM AMMUNITION: On 15/08/2021 at about 0230hrs, acting on credible information received concerning a group of suspected Armed robbers/Kidnappers, the Delta State Police Command Special Anti-cult unit (SACU) operatives stormed their criminal hideout at Ogorode Sapele.
During the operation, five suspects namely; Nelson Ofurhie 'm' age 40yrs,
Efe Adams 'm' age 32yrs,
Williams Onufuevue 'm' age 46yrs,
Enajitu Itiefie 'm' age 37yrs
and Oghenero Eruteta 'm' age 37yrs were arrested.
Exhibit recovered from them includes,
one AK 47 rifle with breech no. KT1921,
one locally fabricated AK47 rifle,
two (2) pump action gun,
two (2) locally made single barrel gun,
forty-seven rounds of 7.62mm live ammunition,
some quantity of hard drugs,
one ash colour Mercedes Benz Jeep reg. No. AFZ 735 HW,
one white colour Lexus Jeep with reg. No. KUJ 983 NW
and one (1) ash colour corolla car with Reg. No. SAP 911 MX. Case under investigation.
2.ARREST OF SERIAL CAR SNATCHERS/RECOVERY OF VEHICLE: On 14/8/21 at about 2300hrs, acting on credible intelligence gathered that a Toyota Sienna Sedan car with Reg. No. AJL 330 PC Silver colour was removed from where it was parked at Amichi in Anambra state and that the vehicle was heading to Asaba.The DPO 'A' Division Asaba and some Police operatives on intelligence led operation located the vehicle at Elemedo Hotel Bonsac Asaba.
Three suspects namely;
Oyinaya Augustine 'm ' age 48yrs,
Bishop Ifeanyi Eneh 'm' of Ikotun Egbe Lagos state
and Lilian Eze 'f' 27yrs were arrested.
The suspect has been a popular notorious car snatcher who was one time arrested in November 2010 and charged to court in Anambra, he has been on the business of car snatching for the past twenty years.
The other suspect Bishop has always been his lawyer who uses human right to attack law enforcement agencies from arresting and prosecuting the said suspect and he was to take the vehicle to Lagos but Luck ran out of him this time as he was caught in the act. Suspects will be charge to court.
3.ARREST OF SUSPECTED CULTISTS/MURDER SUSPECTS: On the 14/8/2021 at about 2045hrs, a combined team comprising of all tactical squads, Ogwashi-uku patrol teams and vigilante raided Agidiese Qtrs where twelve suspected cultist were arrested.
Among those arrested are
Chiedu Ewuzie 'm',
Bright Ushiagwu 'm' AKA Small,
and Nnamdi Okocha 'm' a dreaded arrow barger cult group.
They have been on the run after they allegedly murdered one Ifeanyi Umeadi sometime in the month of July 2021 at Ogbeofu qtrs in Ogwashi Uku. Nine of the suspected cultists have been charged to court, while the other three murder suspects are still undergoing investigation.
Thank you all.
CP ARI MOHAMMED ALI, FCIA, psc+,
COMMISSIONER OF POLICE
DELTA STATE COMMAND
ASABA.