THE NIGERIA IMMIGRATION SERVICE (NIS) TO INTENSIFY COLLABORATION WITH THE ECONOMIC AND FINANCIAL CRIMES COMMISSION (EFCC).
Adunni Adetola
The Nigerian Immigration Service, NIS, Lagos Command, has sought greater collaboration with the Economic and Financial Crimes Commission, EFCC,  in the areas of data and credible intelligence sharing.
Assistant Comptroller- General, ACG, O.A. Talabi, Speaking during a courtesy visit to the Lagos Zonal Command of the EFEC on Friday 13th of August 2021.
She said "The EFCC is a strategic agency in the fight against economic and financial crimes, and the importance of this synergy cannot be over-emphasized. All hands must be on deck to support what the EFCC is doing to smoke out these unwholesome elements from their abodes and jail them accordingly."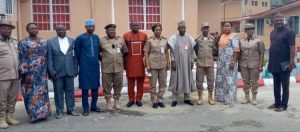 "Hardworking Nigerians across the world, who are striving to make an honest living, deserve to be recognized for their contributions to the society.
"We should not all be tarred with the same brush as fraudsters, who are bringing the image of the country to disrepute."she added.
In his comments, the Commander of the Lagos Zonal Command of the EFCC, Ahmed Ghali, expressed his gratitude over the visit, adding that the Commission had been enjoying support on data and intelligent sharing.
Ghali, who concurred that the two agencies have a lot of work to do together, enjoined them not to hesitate to reach out "whenever there is a need to do so, because our doors are always open."