BOOK LAUNCH : DEMOCRACY & THE UNTOLD STORY OF JUNE 12. BY ABIMBOLA ABODERIN.
Adunni Adetola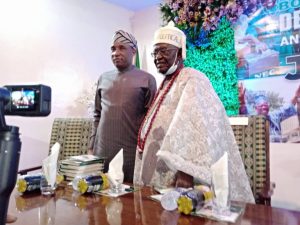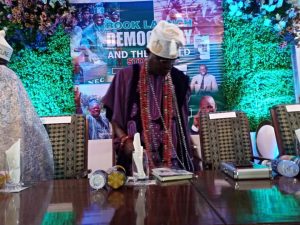 June 12 book launch by Abimbola Aboderin.
The Democracy and the Untold story of June 12.
June 12, a political matter, which highlighted in the main, the injustices embedded in the State was marked last week by progressive forces across the country.
Apologists of the Status quo used the occasion to drum up support for the administration of President Muhammadu Buhari.
It would be recalled that two years ago, the incumbent administration has declared the June 12 hitherto Democracy Day in place of may 29th marked as Democracy Day.
Many people all over the country remained home to monitor the outcome of this year June 12 Democracy Day. Also fear and panic gripped Nigerians as rumours has it that Nigeria would be divided on June 12.
In I993, Nigerians voted for Chief MKO Abiola of the Social Democratic Party (SDP) to be the president in an election that was subsequently annulled by the military regime of General Ibrahim Badamosi Babangida. The already known outcome of the historic election had threatened the unity of the country of remarkable but complex diversity.
However, the incident was quite auspicious for the social forces in the country to showcase case their interest by protesting. The rule of law has been observed in the breach.
A brief review of the book
The book throws insight on controversies surrounding June 12 election, Chief Abimbola Aboderin was a close confidant of the late MKO Abiola and one of the think tank that stood by him till the end and the struggle to reclaim his mandate  after the election.
Democracy and the untold story of June 12 is divided into two interesting parts; the trajectory of Chief Abimbola  Aboderin and the exploits of his famous father in politics and business.
Secondly, part details of his political activities with Chief MKO Abiola. The lessons of friendship, loyalty and emotional intelligence.
This unusual biography details and eyewitness accounts of  happenstance before, during  and after June 12 general elections in Nigeria
Robust in historical facts and insightful with deeper understanding of power play, this masterpiece is a reader's delight for those intend to study MKO Abiola and aborted 1993 June 12 election.
Democracy will be redefined in simplest terms just by reading this book.
Chief Abimbola Aboderin really deserves a standing ovations for birthing a new democratic guide for generations of political aspirants in Nigeria.
A brief history of the Author.
Chief Abimbola Aboderin was born on 15th of October, 1952 to the family of Olola Moyosore and Princess Funmilayo Aboderin from Ibadan Oyo State. Happily married to Folusho with three children.
After his primary and secondary education, he went further to the University of San Francisco, U.S.A, where he obtained his B.SC. Business Administration  and Golden  Gate University S.F. U.S.A for his MBA Bankng and Finance.
He has worked in various establishments such as the chairman Paper sack Nigeria Ltd, Chairman Aboderin & Glahe Limited, Organizers of International Trade Fairs & Exhibitions. He has contributed to the Federal Government Of Nigeria in various ways and secured Foreign Loan and Re-Scheduled the outstanding loans.
He is a titled man, Otun Bashorun Atunluto of Ibadan land, Mayegun of Akanran of Ibadan and Aare of Onireke of Ibadan. He is an Industrialist, Publisher, Author, Real Estate and Agriculturalist.
Few people who gracefully attended the Book Launch of Chief Abimbola Aboderin on June 12  in Honour of Late Chief MKO were Mr Tunji Bello who represented the Chief Launcher Asiwaju Bola Ahmed Tinubu and Lagos State Governor Babajide Sanwo-Olu, Chief Soko Kemade represented the Oni of Ife, His royal highness Adeyeye Babatunde Enitan  Ogunwusi Ojaja 11,  Oba  Tajudeen Ajibola MKO Abiola's Lawyer, MC, Mr Lekan Alabi, Chief Muis Adeboyega Akande, Chief Mrs Julie Coker and so many other guests not mentioned. The event took place on Saturday June 12, at the Nigeria Institute of international Affairs, 13/15 Kofo AbayomI street, Victoria Island Lagos.
In an interview with the book author, Chief Abimbola Aboderin described late Chief MKO Abiola as a true Nationalist, a philanthropist, brilliant, committed fellow.  "Infact he is generous man he displayed his generosity to the poor, people should emulate his kindhearted nature" he said that he was delighted to launch this book in the memory of his dear friend, June 12 shouldnt have been annulled and will not be forgotten.
He also added that the book is important to learn from the past and embrace the future,"I believe in history."
Chief Muis Akande (otun parakoyi of Ibadan) said  justification had been done by the government to acknowledge June12 , and adviced that the Federal Government of Nigeria to fulfil their promises to the late  Chief MKO family soon.
Others expressed their views on the annullment of June 12, also showed their respect to Late Chief MKO Abiola .
Welcome note from Olueaseun Aboderin
Book reviewer was Chief Mike Cerrutti Osagie.
Light music entrainment by Anjola Aboderin.
Vote of thanks from Omolola Oshikoya (Nee Aboderin)
Miss Aboderin said the Closing Prayer and ask Nigeria to continue to be peaceful and not in disunity.