CSP ADEOYA ADEBAYO RECEIVED AWARD OF EXCELLENCE IN COMBATING CRIME.
Adunni Adetola
The Torch News Media Presented a Meritorious Award of Excellence in Combating Crime to CSP Adeoya Adebayo, DPO Surulere Division, Area C. Lagos State Police Command on Thursday 8th of April 2021.
The Award presentation was based on recognition of his immense dedication, commitment, excellence relentless approach in crime prevention and management, tackling security matters and exploit in Surulere and environs through intelligence and community policing .
He also demonstrated gallantry, exemplary leadership qualities through synergy and exceptional contributions towards protection of lives and property in Nigeria.
May you move from one great stride to another.
Adeoya showed his profound gratitude and sincere appreciation to the staff and management of The Torch News Media for counting him worthy to receive a Meritorious award of excellence in Combating crime.
Speaking with him on how he has been able to curtail crime in the area. He responded that "through commitment, dedication, Proffessionalism, Proactivenss, good community Relationships PR. with the people in community, stakeholders, by putting our ears down and swing into action."
According to him " I really thank God almighty for making it possible, I dedicate this Award to God Almighty and also to Humanity. Coincidentally, my family are here present to witness the presentation." "The award will spur me to do more and expect more from me by the grace of God. ".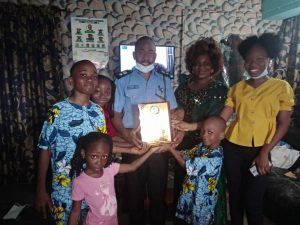 Describing CSP Adeoya, He is a very dependable, responsible, committed, gallant, proactive and competent senior Police officer. He has worked in different capacities of the Police formation, gathered much courage and experiences to tackle any responsibilities and given assignments.
Conclusively, God will give you the enablement to do more. Keep up the good job.