"I'm Giving Gov. Sanwo-Olu 48 Hours To Dethrone Seriki Fulani In Lagos" -Murphy Adebare.
Adunni Adetola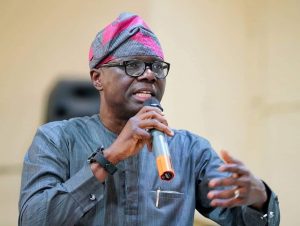 The Managing Director, Topaz Gardens Limited and a Real Estate guru, Murphy Adebare has given the Executive Governor of Lagos State 48 hours to dethrone Seriki of Fulani in Lagos.
In a statement to newsmen on Sunday said that it was unfair for a Fulani man to be enthroned as Seriki considering that they have not been accommodating to other ethnic groups in their region.
He explained that a Fulani man would hardly give the title of an Oba to a Yoruba living in their midst rather, they will look for how best to eliminate him.
"Let's take for instance, the moment the Fulani man finds out that you are a Yoruba man, the next thing they will be looking for is how to eliminate you.
"To avoid ethnic crisis and to save lives, we have just been accommodating. I cannot go to Kano and declare myself as Oba in Kano. I'm very sure they will not accept it. Instead, the next thing is "Bugashi", that is; "to kill".
"The gods of the land had earlier revealed to me that the Fulani Agenda is to colonized the Yorubas. As my fatherland, we have tried not to be tribalistic especially as it involves Lagos as a Yoruba Land.
"I am telling Governor Sanwo-Olu not sell his people on the alter of politics. Governor Sanwo-Olu should rise up now and be part of those that would save the breaking up of Nigeria."Yoruba is not like Hausa land that they used religion to take over in 18th Century.
"Now Governor Sanwo-Olu should dethrone Seriki Fulani of Lagos in the next 48 hours to avoid ethnic crisis and to save Nigeria from further crisis.
"The Fulani's agenda is to enslave the Yorubas. As such, the Seriki Fulani should be dethroned. We don't want further crisis in Yourba land. We have had enough of insecurities and killings going on in some parts of the country."
Therefore, the Government should also not provoke the masses into taking laws into their hands. All we want is restoration of peace in the entire Yoruba land and Nigeria in general.
That is why we have always accommodated all tribes in Lagos while we live and trade in peace and not in pieces."If a visitor or a tenant is now claiming to be the landlord in my house and in my fatherland, then, there is a problem."
"As a people, the Yorubas are not afraid of the Fulani. We are ready to face them squarely, if they continue to harrass out people. I also implore the Fulanis to stay out of trouble and accommodate other Nigerians who live in their communities," he added.
Murphy reiterated that Gov Sanwo-Olu should trend the part of peaceful coexistence by dethroning the Seriki of Fulani in Lagos within the next 48 hours.