NIGERIAN LEGION CHAIRMAN CELEBRATES HIS 75TH BIRTHDAY IN A GRAND STYLE.
Adunni Adetola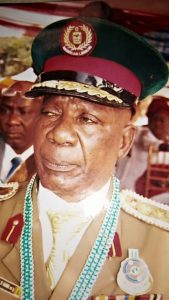 Hurry! Hurry!! Hurry!!!
Happy 75th birthday celebration to a distinguished exemplary leader, a father, a mentor, quintessential Officer, a vibrant Army officer, a good leader per excellent a renowned successful businessman, and a proactive leader.
Col. Samuel Akande, CNC,The current Chairman Nigerian Legion Corps Lagos state headquarters Bolade Arena.
A heartily warm wishes to you sir as you celebrate yourr 75th birthday celebration which Comes up this weekend Saturday, 19th of December 2020.
As a matter of facts your reign as a Chairman of Nigerian Legion Corps has brought about growth, developments and transformaton the command to an enviable height and standard, to the admiration of the officers under your watch, the public and government.
You a truely amazing democrat, a hero of our time, a human rights crusader, a man of dignity, sublimity, nobility, eloquence, grandeur stateliness, and exceptional brilliance.
May God almighty bless your new age, increase  you in wisdom and more understanding to rule and lead your people to aright.