#ENDSARS: GOVERNOR SANWO-OLU DECLARED 24-HOUR CURFEW IN LAGOS AS PROTEST TURN TO RIOT.
Adunni Adetola
The Lagos State Government has declared a 24-hour curfew on Tuesday 20th october effective from 4 p.m, due to the violent attacks on Police officers and men, including innocent Nigerians in different parts of State in the protest of #ENDSARS.
Also as a sound of warning, the Lagos State Police Command wishes to address the general Public that henceforth, no protest, no gathering or possession under any guise is permitted within Lagos state.
Governor Babajide Sanwo-Olu has   declared that no one, except essential service providers and first responders, must be found on the streets by 4 p.m.
Sanwo-Olu said "I have watched with shock how what began as a peaceful #EndSARS protest has degenerated into a monster that is threatening the well-being of our society. Lives and limbs have been lost as criminals and miscreants are now hiding under the umbrella of these protests to unleash mayhem on our State,"
"As a government that is alive to its responsibility and has shown a commitment to the movement #ENDSARS, we will not watch and allow anarchy in our dear state. I, therefore, hereby impose a 24-hour curfew on all parts of the State as from 4 pm today, 20th October,2020. Nobody, except essential service providers and first responders must be found on the streets'
In a statement issued by the Lagos State Police Public Relations Officer SP Olumuyiwa Adejobi,  he said all security agencies, including the police had deployed adequate personnel to take charge and enforce the curfew across the state.
He said the command regrets to confirm the setting ablaze of Orile Police Station today at about 10am, where some policemen were critically injured and unconfirmed reports state that one of them is dead.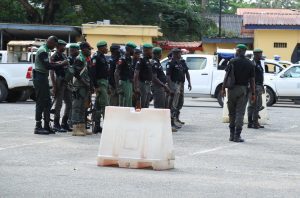 Adejobi commented that it was clear that the #ENDSARS protest had been hijacked by hoodlums who wanted to run down the state. The police command will resist such state of anarchy, unrest and brouhaha with all powers within the ambit of the law.
While the command is resolute in sustenance of human rights and democratic tenets, the general public is hereby warned to comply with the curfew and desist from any act of violence in the state as the command will resist such in totality.