IKORODU ATTACKS CAUSED BY VIOLENT PROTESTERS, PROTEST HIJACKED BY HOODLUMS.
Adunni Adetola
The attacks on innocent passers-by and residents of Ogolonto Area in Ikorodu, Lagos State, on Saturday 18th October, 2020, were caused by violent protesters who threw caution into the wind and suddenly became vilent.
In a statement issued by the Lagos State Public Relations Officer, Lagos state Police Command Ikeja, SP Olumuyiwa Adejobi  said that the protesters, who had barricaded the Ikorodu Expressway at Ogolonto end, as a result of the ongoing #Endsars# protest, started looting shops, attacking motorists, breaking vehicles' wind screens, side mirrors, snatching bags and phones from passers-by, throwing and breaking bottles, brandishing cutlasses and other offensive weapons at about 6.30pm, before they eventually dispersed.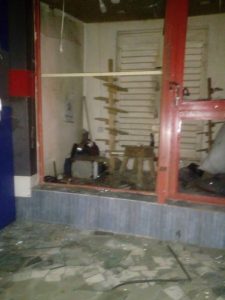 However, today Sunday 19th October, 2020 at about 6am, the residents and victims of the Saturday attacks resisted the moves of the same violent protesters to gather and foment troubles again. Incidentally, the situation became rowdy, but the Area Commander Area N, Ijede, ACP James Usen, has raced to the area to restore normalcy.
The Commissioner of Police therefore appeals to protesters to properly manage their protests and control themselves to be orderly and peaceful.