CP ODUMOSU CHARGES AREA COMMANDERS, DPOs TO PARTNER WITH COMMUNITY LEADERS FOR EFFECTIVE POLICING.
Adunni Adetola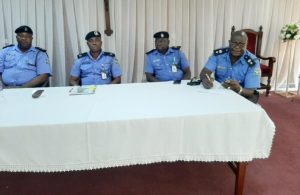 The Commissioner Of Police, Lagos State Command, CP Hakeem Odumosu, had admonished  the Area Commanders and Divisional Police Officers in the state to incorporate  their respective community leaders into action plans for effective service  delivery.
The Commissioner of Police in a statement issued by the Police Public Relations Officer, SP Olumuyiwa Adejobi, made the call while addressing the senior officers at the command headquarters on Friday. He pointed out that with the ongoing endsars protests and security challenges protests and security challenges associated with ember months activities, there is need to involve community leaders and stakeholders in the security business to police the nookes and cranies of the state.
In line with the Commissioner's of Police admonition, the Area Commanders and some Divisional Police Officers in the State have organized security summits or town hall meetings to address security needs of their areas. For the general safety of some volatile areas on the island, the Area Commander Area A, Lion Building, ACP Bode Ojajuni, has organized a security summit, on 15th of October, 2020, held at the Holy Cross Cathedral Church Lagos.
The summit had in attendance religious leaders, leaders of hausa, yoruba and Igbo communities, security agencies, students and women fold, topical issues on security of the entire area command were critically looked into, including the management of the ongoing protests in the state.
The Area commander encouraged the participants to catalyse provision of adequate security for all and sundry via the concept of Community Policing and robust partnership across board in the area.
The leaders and stakeholders appreciated the Area Commander for his initiative particularly at this challenging period and promised to be involved in effective policing of the entire area and Lagos State in general.
The Commissioner of Police has also requested for regular updates on such moves or strategies geared towards better service delivery vis-a-vis robust intelligence-led policing and public safety, from the entire fourteen area Commnads across the state.