CELEBRATION OF WASA DAY AT 174 BATTALION ARMY.
Adunni Adetola
The celebration of WASA day at 174 Battalion took place at the barracks Odogunyan Ikorodu  Lagos on Saturday 8th of February 2020.
Some dignitaries who were present at the occasion were ( SGOH) BRIG. GEN ETSU-NDAGI Commander 9 Bridgade  Nigeria Army, Host was major AA Isa who  fully represented  the  commanding officer Lt.Col Manu who was unavoidably  absent at the occasion.  HRM Oba (bar) Semiudeen Kasali the Adeboruwa of Igbogbo kingdom was represented by Chief Jelili Sani. HRM Oba (ENGR) Bashiru Aremu Shotonwa the Sekumade of Ipakodo represented Hon Chief Ganiu Saka.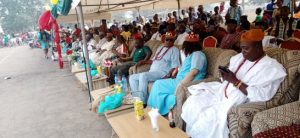 Other dignitaries include Chief Col.RI Nwako (RTD) The Omobowale of Ikorodu kingdom.Mr MT Amusa,the director  of HOMAT EDUCATION GROUP. Alh Fatai Mustafa F1 Bar. Chief and Lolo Osondu Nwego, Director of RANKET SUPERMARKET AND STORES. MR Samson Adetoye, President OGOOLUWA COOPERATIVE LAGOS. The Hausa/Arewa community. The Igbo  Community. The Yoruba Community and many others not mentioned.
Chief oyike Ibe the impeccable and a splendid MC had been handing the programme for many years. Other attractions  lined up are  various different ethnic display, presentation of awards to both military and civilians.
 
WASA means West Africa Social Activities an event whereby people from different countries, states and ethnic groups come together to display their talents and  show case their cultures. The event takes place at the end of every year for Officers and others to relax and be entertained and cultural dancers from various ethnic groups deplayed different games.
Initially, Soldiers  performed alone  but now the ceremony has been extended to civilian to display their cultural dance and different  games.
In an interview with the (SGOH) Brigadier  Gen. According to him " The WASA is well arranged in 174 Battalion, it increases and deepens the existing cooperation and relationship with the Soldiers, friends and families. It show cases the rich cultural heritage in Nigeria whereby people from diverse tribal groups can understand their differences."
"WASA also unites the troops makes it difficult  for evil forces in society to penetrate them and it also stabilises the country". WASA is a west Africa activity a culture from west Africa from the British Military in west Africa gave the tradition  to the military  in Nigeria and it has been maintained automatically it fostered  bond of friendship with other people. "
According to Major AA Isa 2nd in command 174 Battalion Odogunyan " WASA is a yearly cultural activity that was inherited  by the colonial  masters when  Army was known as  Africa frontier force, a social gathering  that brings together all cultural  diversities in the country to show their cultural activities. So far so good it has impacted and brought unity in diversity people from various tribes together into military environments and encompasses the whole ethnic groups showing  unity within the military circle and welcomes everyone. "
Chief Augustine a close ally of the Battalion spoke on WASA " WASA is a lively  annual event and must continue to take place."
Mr Samson Adetoye also a close ally too spoke "I have a cordial relationship with the Battalion have been coming to grace the event for years now when ever am invited. The event is very lively learn new and different cultural displays and dancing. Infact I really enjoyed the children dancing. WASA is a great event"
The significance of lighting the fire at the end of WASA symbolizes that the event had been concluded.