2nd Edition of Lagos Archdiocedan music commission (LAMCOM) lunched.
Adunni Adetola
The 2nd Edition  Pentecost  concert/ dinner, 50 million fund raising of  Lagos Archdiocesan music commission (LAMCOM) launched  on Wednesday  5th of June  2019 at shell hall Muson centre, onikan Lagos.
     Under his lordship archbishop of Lagos most  Rev.Dr. Alfred Adewale Martins. His Eminence Anthony Cardinal Okogie Archbishop Emeritus  of Lagos. His lordship most Rev. Emmanuel Badejo the bishop of Oyo diocese and other men of God physically present at the occasion. 
The chairman of the day  was Her Royal Highness Erelu Dosunmu.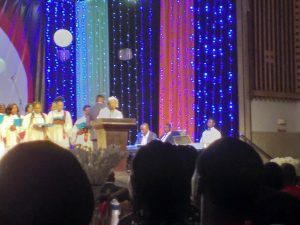 Other attractions include investiture  of Patrons, Hall of Fame, birthday  anniversary of chief  Shepard His grace, most  Rev. Dr. Alfred Adewale Martins.
All of fame awardee are His lordship,  Most Rev. Emmanuel Badejo,The Bishop of Oyo diocese. Sir Dr.A.B.C. Orijiakor. Some music awardees are Rev.Fr.Marcellinus Teko, Rev.Fr. Francis ike, Rev. Sis. Fidelis Chukwumah, Rev.Fr. Stephen  Akinsowon and Rev. Fr Pius Omofuma.
The new Patrons are Mr& Mrs Felix Awolaja, Mr&Mrs Yemi Aluko, Mr& Mrs Chuka C.Eseka, Mr& Mrs Bamishebi Thompson,  chief  Barr. Mrs Philomena Omorodion, Sir& Lady C. Oghenekevwe, Mr& Mrs Anthony Nwanchuwu,  Chief & Mrs S.A Ogundipe, Sir Dame Itsueli and Mr.Chris Akonye.
  

In an interview with one of the new Patrons Sir Charles Oghenekevwe said " I am really happy today  is a great privilege call to duty, take up responsibilities, The LAMCOM is set up to assist  the people and ensure that the funding of their school fees  continues for those who couldn't afford the money to further their education to avoid dropping out of schools. The LAM -COM had been  established some years back, " We must  join hands together to build a befitting permanent site  is a call to support and actualize the target of 50million naira. According to him, gospel music is good  its fulfilling gives you joy to praise God in heaven   its inspiring.